The art of vehicle wrapping is the core expertise of Vinyl Wrap Toronto, where every vehicle is a canvas waiting for transformation. With a decade-long history of meticulously executed vehicle customizations, Vinyl Wrap Toronto stands tall as the go-to solution for clients seeking out wraps, decals, and more. In the heart of the Greater Toronto Area (GTA), our team of skilled designers and installers take on a multitude of projects, delivering impressive results each time. This blog post deeply delves into one such recent project – the full wrap of Hungarock's Chevy Silverado 2022.
A full vehicle wrap is more than just a visual transformation; it's a marketing powerhouse on wheels. The project spotlighted in this article underlines our commitment to quality, precision, and client satisfaction as we guide you through the intricate process of transforming an already impressive Chevy Silverado 2022 into a striking representation of the Hungarock brand.
Client Profile: Hungarock
Hungarock, our esteemed client, exhibits a dynamic presence in their industry. Understanding the vision and business model of Hungarock was the cornerstone of this project. They realized the potential of leveraging their Chevy Silverado 2022 as a moving billboard, capitalizing on the wide surface area and visual impact a fully wrapped truck can deliver.
The decision to opt for a full wrap stemmed from a strategic standpoint. They sought an effective way to stand out, increase brand recognition, and simultaneously protect their valuable asset. The Chevy Silverado 2022, with its imposing structure, was an ideal candidate for a full wrap. This vehicle, serving both functional and marketing purposes, was about to get a significant aesthetic upgrade aligning with Hungarock's branding.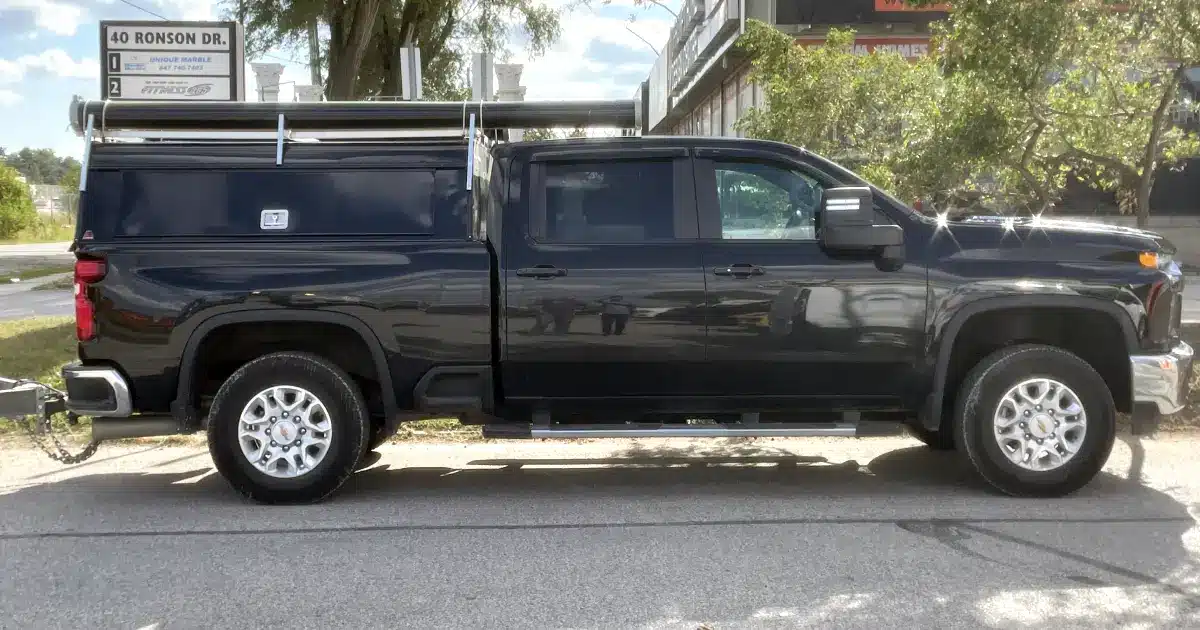 Project Understanding: Full Wrap on Chevy Silverado 2022
A full vehicle wrap is a comprehensive process that transforms every visible inch of the vehicle's exterior. This meticulous procedure encapsulates the vehicle in a vinyl shield, doubling as both an aesthetic enhancement and a protective layer. Full wraps offer immense advantages, including customizability, vehicle protection, and an effective marketing tool that travels wherever the vehicle does.
In the case of Hungarock's Chevy Silverado 2022, the large surface area offered an excellent opportunity for brand visibility. Chevy Silverado, known for its robust and commanding presence, is instantly recognizable on the road. This high level of recognition, coupled with a bespoke full wrap, makes it an effective means to captivate the attention of both pedestrians and motorists. The selection of this vehicle model wasn't just about functionality; it was a strategic choice aimed at maximizing visibility and enhancing the company's mobile advertising efforts.
Design and Material Selection: Avery Dennison with Gloss Lamination
The design phase of the full wrap project was centred on aesthetic appeal and brand alignment. The Chevy Silverado 2022's imposing physique was to be complemented by a sleek and sophisticated design. The design elements chosen were a black hood and fenders to be covered with printed black. This selection was not random; it was a strategic choice made to underline the vehicle's bold character and sync with Hungarock's branding.
Using printed black coverings on the black parts offered a unique advantage. It gave the vehicle a uniform appearance, making the company's logos and graphics stand out even more against the black background. This way, the design created a striking contrast that instantly grabbed attention.
Material selection was the next pivotal step in the process. Avery Dennison with Gloss Lamination was the material of choice for this project. Avery Dennison, a leader in wrap materials, is renowned for its high-quality, durable vinyl. Its ability to conform to vehicle curves and edges and its longevity made it a perfect choice. The gloss lamination added a sheen to the finish, enhancing the visual appeal and providing an added layer of protection against external factors like UV rays, scratches, and grime. This combination offered the best of both worlds: a vibrant aesthetic and a robust shield.
Execution: The Wrapping Process
With a clear design vision and the best materials at hand, the actual wrapping process commenced. This detailed, labour-intensive process requires a high degree of skill and precision. Over the course of 4-5 days, the Vinyl Wrap Toronto team embarked on the task of transforming the Chevy Silverado 2022.
The initial phase involved prepping the vehicle. Every inch of the vehicle was thoroughly cleaned to ensure an optimal adhesion surface. Every residue, from dirt to wax, was removed. This stage is crucial as it sets the foundation for the rest of the wrapping process.
Next, the Avery Dennison material was meticulously measured and cut to match the vehicle's dimensions. Each panel was wrapped individually, starting from the center and moving outward to prevent bubbles and wrinkles. This process is akin to a puzzle, where each piece needs to fit perfectly to achieve the desired result.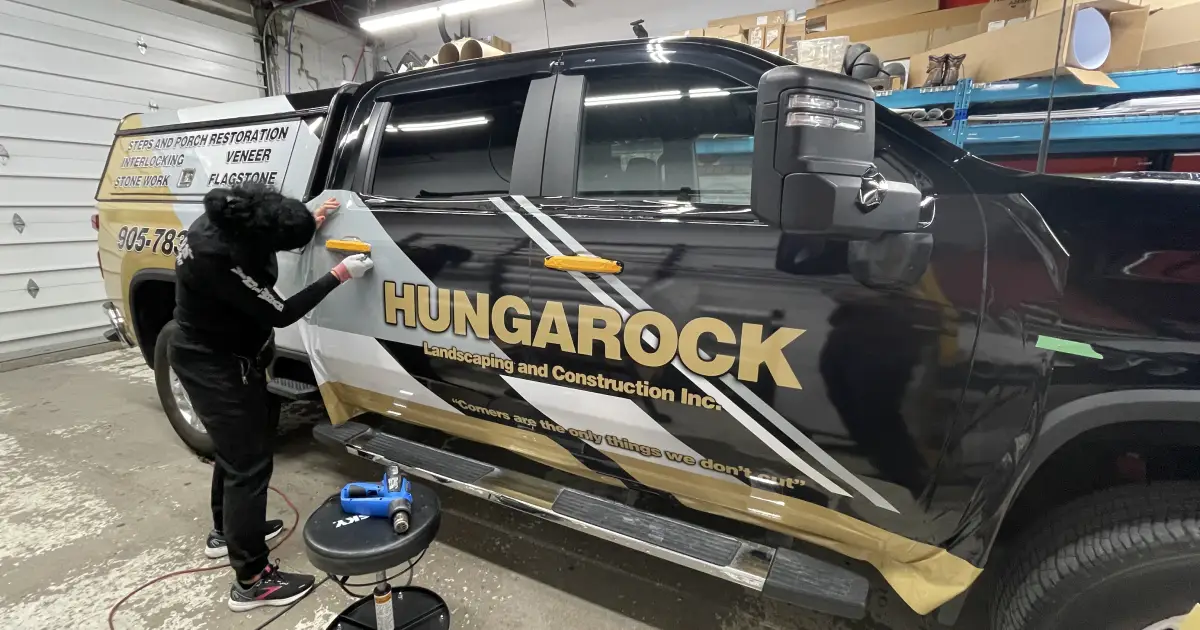 With the black hood and fenders, the challenge lay in ensuring the printed black coverings blended seamlessly with the rest of the vehicle's design. Precision and attention to detail were paramount to maintaining uniformity across the vehicle.
Each challenge encountered during the process, from maneuvering around complex curves to ensuring the printed black coverings aligned perfectly with the design, was met with innovative solutions. Through experience and skill, the Vinyl Wrap Toronto team successfully completed the full wrap within the stipulated timeframe, marking another successful project in our portfolio.
The Outcome: Transformation and Impact
At the end of an intense, detail-oriented 4-5 day wrapping process, the transformation of the Chevy Silverado 2022 was nothing short of stunning. The full wrap morphed the vehicle into a bold and stylish moving billboard, oozing professionalism and quality. The sleek black hood and fenders covered with printed black lent the vehicle a distinctive charm and elegance. The glossy sheen of the Avery Dennison material enhanced the visual impact while also providing a robust shield against the elements, ensuring the wrap's longevity and resilience.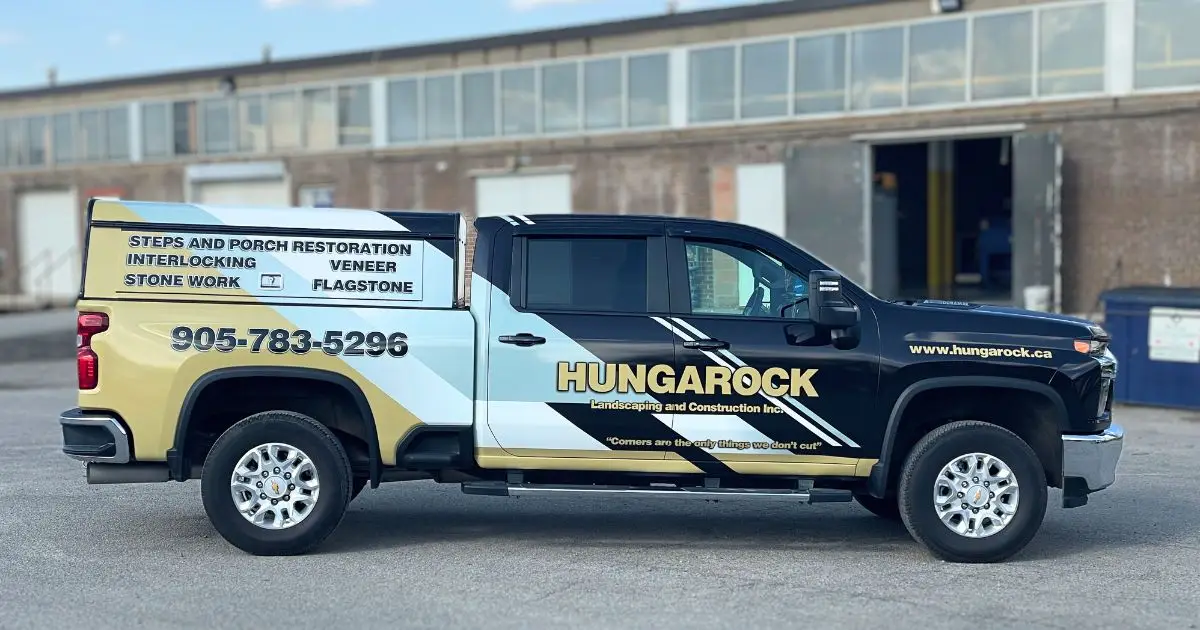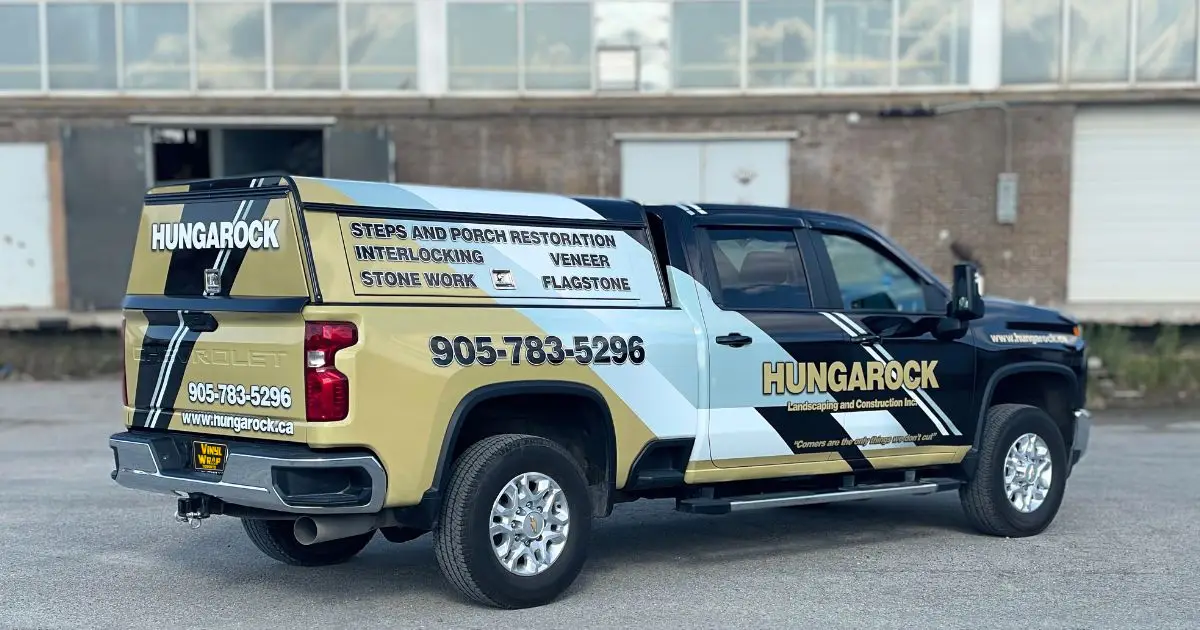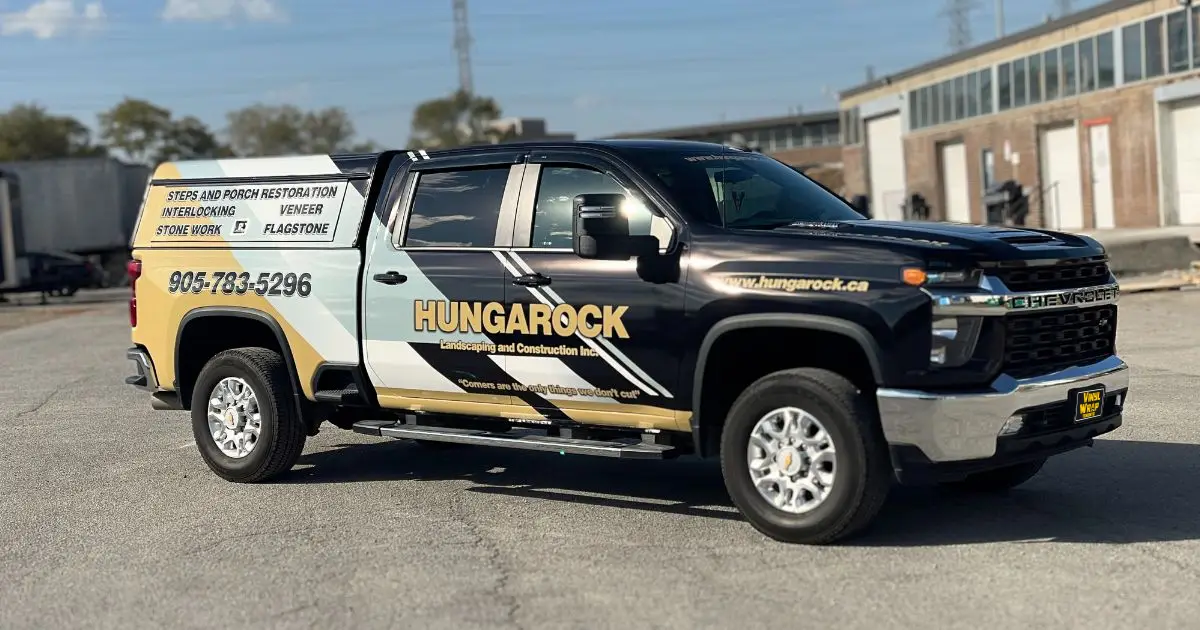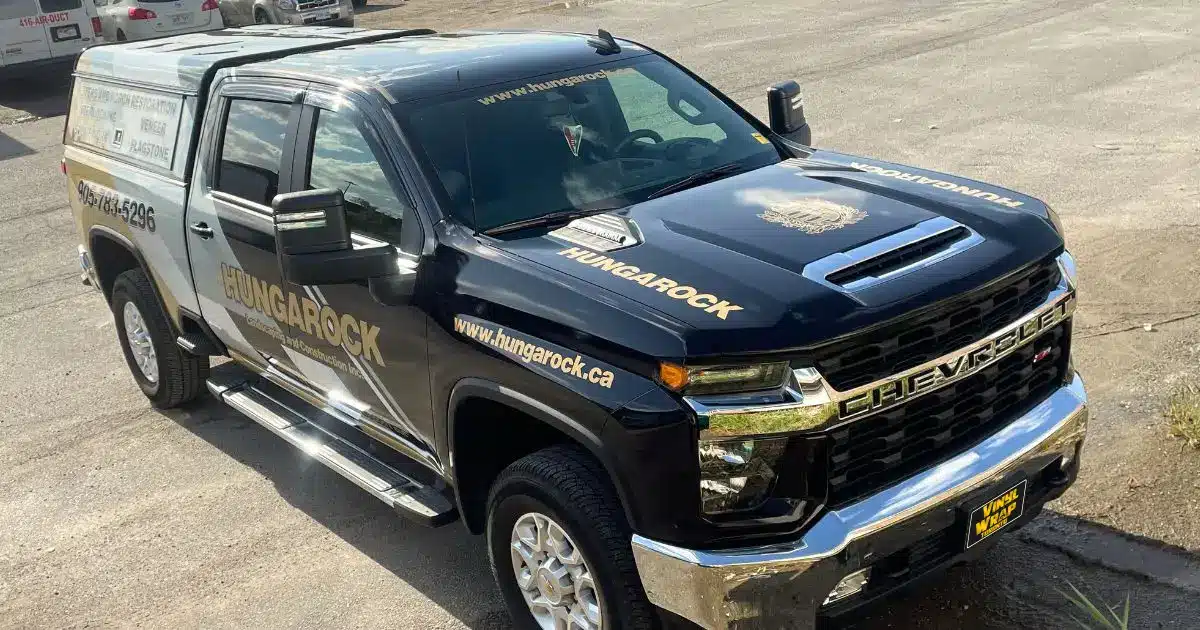 The vinyl wrap was more than just a change in the vehicle's aesthetics; it was an upgrade in the vehicle's branding potential. The truck now served as a 24/7 advertisement for Hungarock, making a powerful statement wherever it went. This visual transformation had a ripple effect on Hungarock's brand visibility and recognition.
The client's feedback was a testament to the success of the project. They were thrilled with the transformation and the quality of the work. They appreciated the attention to detail, the precision of the wrap application, and the overall professional service provided by Vinyl Wrap Toronto. This transformation exceeded their expectations and contributed positively to their brand image, creating a powerful online presence.
Moreover, this project significantly impacted Hungarock's business operations. With their Chevy Silverado 2022 turned into a mobile advertisement, they witnessed increased brand awareness and a stronger connection with the community. The full wrap became an investment that paid dividends in the form of marketing mileage.
Conclusion: Vinyl Wrap Toronto's Expertise and Service Quality
Reflecting on this project, it is evident that at Vinyl Wrap Toronto, we are committed to transforming ordinary vehicles into extraordinary marketing tools. The full-wrap transformation of Hungarock's Chevy Silverado 2022 is a prime example of this commitment. It showcases our technical wrapping skills, design acumen, and dedication to understanding and fulfilling our client's unique needs.
Each project we undertake is more than just a job; it's a chance to help a business tell its story, promote its brand, and connect with its audience in a dynamic and impactful way. This approach is at the heart of our service. The Hungarock project underlines this ethos, demonstrating how we can take a powerful vehicle like the Chevy Silverado 2022 and amplify its impact through carefully considered design and high-quality wrapping.
At Vinyl Wrap Toronto, we understand that a vehicle wrap is a significant investment for our clients. Therefore, we strive to ensure that each wrap we produce offers the best return on investment by combining superior quality materials, skilled application, and designs that truly embody our clients' brands. This commitment to quality and customer satisfaction has positioned us as a trusted leader in the vehicle wrap industry in the GTA area.
To sum it up, your vehicle is more than just a mode of transport; it's a powerful marketing tool waiting to be utilized. Whether you own a fleet of box trucks, a sports car, or a simple city runaround, the potential for brand exposure and visual impact is vast. By partnering with Vinyl Wrap Toronto for your vehicle wrapping needs, you're investing in more than just a high-quality, durable wrap; you're investing in a visually striking marketing solution that's on duty 24/7, amplifying your brand's presence wherever it goes.
If the transformation of Hungarock's Chevy Silverado 2022 has sparked your interest, we would love to help ignite your brand's potential too. Get in touch with us today for a consultation, and let's discuss how we can transform your vehicle into a mobile billboard, captivating eyes, and driving engagement. We invite you to request a quote and discover the transformative power of a vehicle wrap by Vinyl Wrap Toronto.
Get a quote: