In the heart of the Greater Toronto Area (GTA), amid the cacophony of city life and the harmonious blend of cultures, a beacon of creativity and craftsmanship thrives – Vinyl Wrap Toronto. Our mission is as clear as our passion is vibrant: to transform everyday vehicles into extraordinary masterpieces of customized art. With over a decade of hard-earned expertise in vehicle wraps and bespoke customizations, we have been the catalyst for many visual metamorphoses. This blog post is designed to take you on an in-depth journey through one of our recent projects, a testament to our dedication, craftsmanship, and commitment to customer satisfaction – a partial wrap of an ATM Systems box truck.
The Client
ATM Systems is a name that resonates strongly within the financial convenience sphere. Renowned for their superior and reliable ATM solutions, they have been contributing to the fabric of our city's convenience network for years. Their ATMs grace a multitude of establishments, offering Torontonians easy and secure access to their finances. When they approached us with a request to customize their box truck, we were ready to create a design that would mirror their reputation for convenience and reliability while also amplifying their brand identity.
The Project
The task was to craft and implement a partial wrap for an ATM Systems box truck. Unlike a full wrap that covers the entire vehicle, a partial wrap focuses on specific areas, enhancing crucial elements like logos and contact information. This project provided an exciting opportunity to fuse our creativity with their brand requirements, ultimately crafting a design that would stand as a mobile testament to ATM Systems' pervasive presence and reliable service.
The Challenge
Every project, in its unique way, brings along its set of challenges. Due to its sheer size, the box truck demanded an impactful design that would strike a balance between aesthetic appeal and professional integrity. The mobile nature of the truck necessitated a design that ensured visibility from a distance and clarity of the vital information presented. Durability was also a significant factor, given the daily wear and tear the vehicle would undergo, not to mention the exposure to Toronto's harsh winters and unpredictable weather conditions.
Material Selection
In response to these challenges, we selected Avery Dennison Vinyl with Gloss Lamination for this project. This material's reputation for superior durability made it an ideal choice, ensuring the wrap's resilience against the elements and the rigours of daily use. The Gloss Lamination was incorporated to augment the visibility of the design, making the colours more vibrant and catching the eye even in low-light conditions. This material, with its proven track record for delivering high-quality results, was well-suited to meet the requirements of this particular project.
Process
Our journey began with the unwrapping of the truck, a process that involved removing any residual adhesives and ensuring the surface was impeccably clean. Then came the actual wrapping, a task that required precision, skill, and an unerring eye for detail. Our experienced team carefully applied each element of the design, aligning it perfectly and ensuring no bubbles or wrinkles marred the surface. Two days of diligent work culminated in the birth of a mobile billboard that was ready to hit the streets of Toronto.
Outcome
The finished product was nothing short of stunning. With its vibrant colours and clear depiction of ATM Systems' logo and contact information, the partial wrap design immediately caught the eye, serving as a moving proclamation of its brand. The client was highly satisfied with the quality of the wrap, the seamless application, and the swift two-day completion time, reinforcing our commitment to delivering top-notch customer service.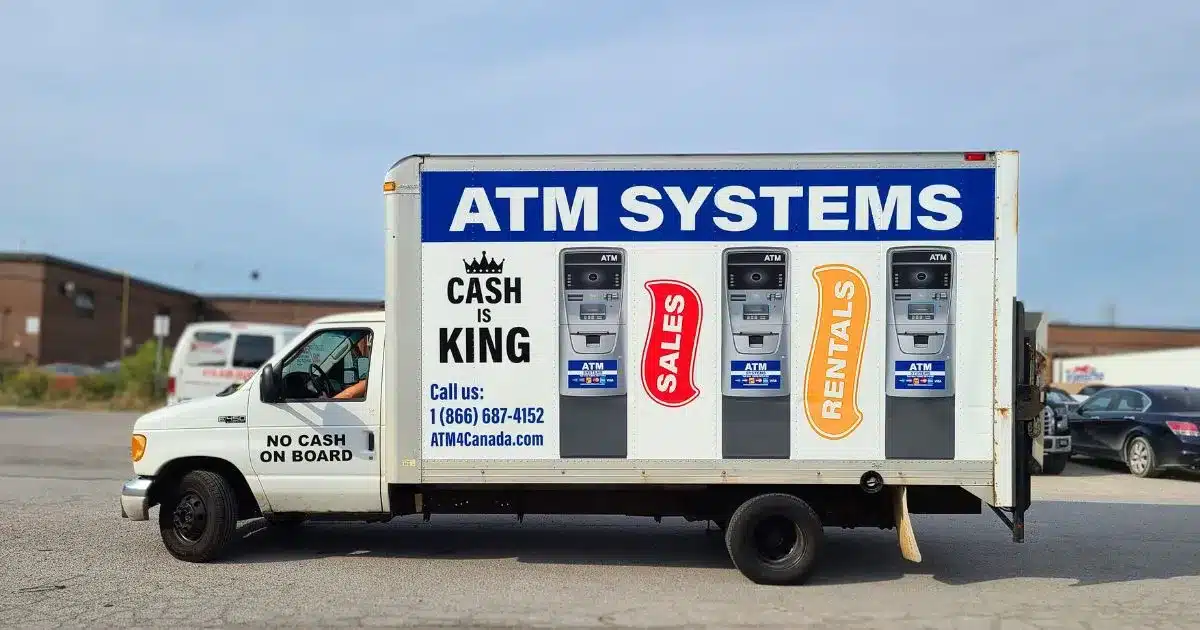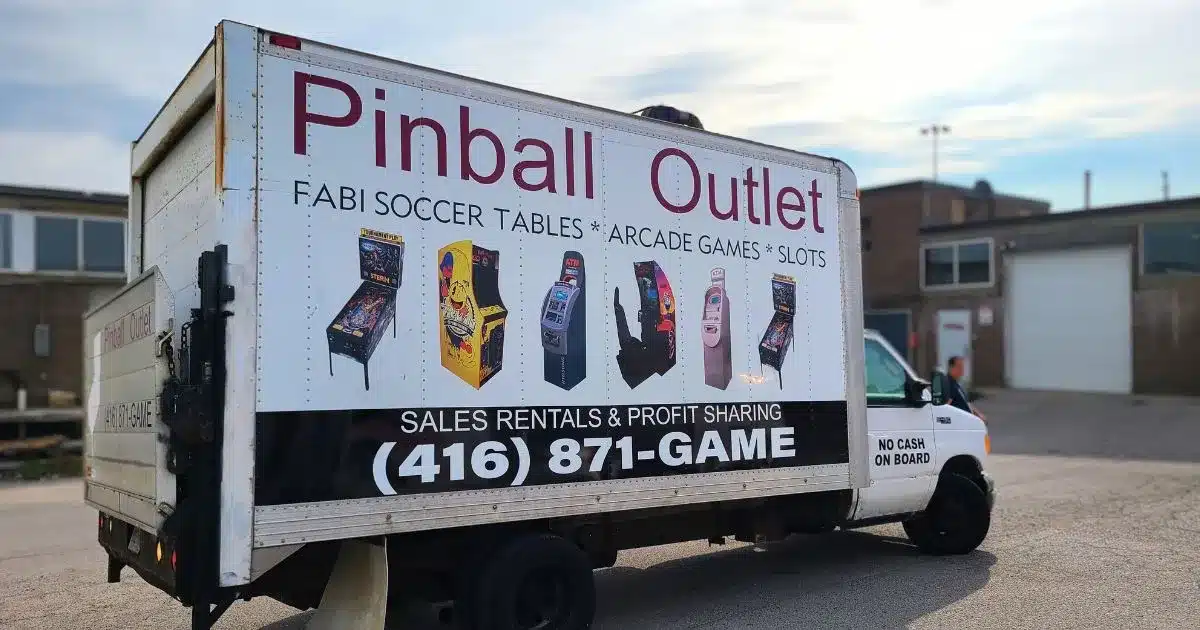 This project serves as a reaffirmation of Vinyl Wrap Toronto's expertise and dedication to transforming ordinary vehicles into extraordinary canvases of mobile art. We are incredibly proud to have partnered with ATM Systems and to have contributed to their brand story in our unique way. The successful completion of this project strengthens our resolve to continue providing superior quality wraps and bespoke customization services to our clients in the Greater Toronto Area.
ATM System Box Truck Partial Wrap By Vinyl Wrap Toronto
There are multiple reasons to consider getting an ATM System Box Truck Partial Wrap by Vinyl Wrap Toronto, an established expert in the field of vehicle wrapping and customization.
Firstly, a partial wrap is an excellent and cost-effective way to enhance brand visibility. It turns your box truck into a mobile billboard, continuously advertising your business as the truck traverses through different parts of the city. This widespread brand visibility can greatly boost customer reach and recognition, especially for a service like ATM Systems, which caters to various establishments across Toronto.
Secondly, Vinyl Wrap Toronto, with its extensive experience and superior craftsmanship, ensures that the design is visually appealing and professionally represents your brand. They understand the importance of balancing aesthetics with critical information display, ensuring that your logo and contact information are clearly visible and strikingly presented.
Thirdly, the material used, Avery Dennison with Gloss Lamination, guarantees durability and longevity. Considering the tough weather conditions in Toronto and the regular use of a box truck, this robust material is essential to maintain the wrap's quality and appearance.
Lastly, the commitment to customer satisfaction at Vinyl Wrap Toronto is evident in their swift and efficient service. They delivered the ATM System Box Truck Partial Wrap within two days, ensuring minimal disruption to the client's operations. In essence, considering a partial wrap for your box truck by Vinyl Wrap Toronto means choosing quality, efficiency, durability, and a significant boost to your brand visibility.
Benefits of Getting ATM System Box Truck Partial Wrap
1. Enhancing Brand Visibility
One of the significant benefits of investing in an ATM System Box Truck Partial Wrap is the heightened brand visibility it brings. By transforming your box truck into a mobile billboard, your brand message and logo are constantly displayed throughout the city. Each journey the truck takes turns into an opportunity for potential customers to notice your business, significantly expanding your brand's reach. This increased exposure leads to higher brand recall and recognition, contributing to your business's overall growth.
2. Creating a Professional Image
Investing in a vehicle wrap is not just about advertising; it's also about setting a professional image for your business. A well-designed and executed wrap speaks volumes about your commitment to quality and attention to detail. Vinyl Wrap Toronto's expertise ensures that the strikingly eye-catching design also maintains a level of professionalism that resonates with your brand's ethos. It contributes to forming a positive first impression, which, as we know, goes a long way in the business world.
3. Cost-Effective Marketing
Compared to more traditional forms of advertising, a partial wrap offers a cost-effective alternative with impressive results. Given the mobile nature of a box truck, the number of impressions your advertising can make is potentially limitless. Furthermore, it's a one-time investment with long-term payoffs, unlike recurring expenses such as billboards or digital advertising spaces.
3. Durability and Quality
The material used for the wrap, Avery Dennison with Gloss Lamination, is renowned for its durability and quality. This ensures that the wrap withstands the harsh weather conditions in Toronto and the rigours of daily use, keeping the design intact and vibrant. With such a high-quality wrap, you can rest assured that your mobile advertising tool will remain effective and aesthetically pleasing for years to come.
4. Quick Turnaround Time
Time is an essential commodity in the business world, and at Vinyl Wrap Toronto, this is well understood. Their dedication to providing excellent service is evident in their efficient work ethic, completing the box truck partial wrap in just two days. This quick turnaround time means that your vehicle will be back on the road, advertising your business in no time.
5. Long-term Business Impact
In the long run, investing in a partial wrap for your box truck can significantly impact your business. Not only does it increase brand visibility and recognition, but it also conveys an image of professionalism. This can lead to increased customer trust and, subsequently, business growth. Moreover, the wrap's durability ensures that this positive impact is sustained over a long period, making it a wise investment.
The benefits of getting an ATM System Box Truck Partial Wrap are manifold. It is a cost-effective, impactful, and durable solution for businesses looking to increase brand visibility, create a professional image, and grow their customer base. It's an investment that is well worth considering given the numerous advantages.
Final Thoughts
Lastly, the decision to invest in an ATM System Box Truck Partial Wrap by Vinyl Wrap Toronto signifies a strategic and thoughtful move towards growth and success in the business sphere. The multitude of benefits, from increasing brand visibility to creating a professional image, can catapult your business into the public consciousness, expanding your customer base and solidifying your brand's presence in the market.
Moreover, by choosing Vinyl Wrap Toronto, you're entrusting your brand to a company that champions quality, customer satisfaction, and efficiency. Their expertise guarantees that the result will be a harmonious blend of aesthetics, functionality, and durability that can withstand time and weather.
As a business, it's essential to remain innovative and adaptable, and a partial wrap is an exceptional example of how traditional advertising can be creatively transformed for better results. It's a testament to how effective marketing isn't always about grand gestures but can often lie in simplicity and mobility.
Ultimately, the decision to choose an ATM System Box Truck Partial Wrap is about investing in your brand, making a statement of your presence, and driving your business forward—literally and metaphorically. Let your vehicles be the rolling ambassadors of your brand, painting the town with your brand story.
If you're considering giving your vehicle a visual upgrade or wish to enhance your brand visibility through mobile advertising, Vinyl Wrap Toronto is at your service. Our experienced team, coupled with our commitment to delivering top-quality results, ensures your vision will be realized with stunning accuracy and appeal. Contact us today to learn more about our services or request a quote, and let's begin transforming your vehicle into a masterpiece on wheels.
Get in touch