FAQs about Car Wraps & Vinyls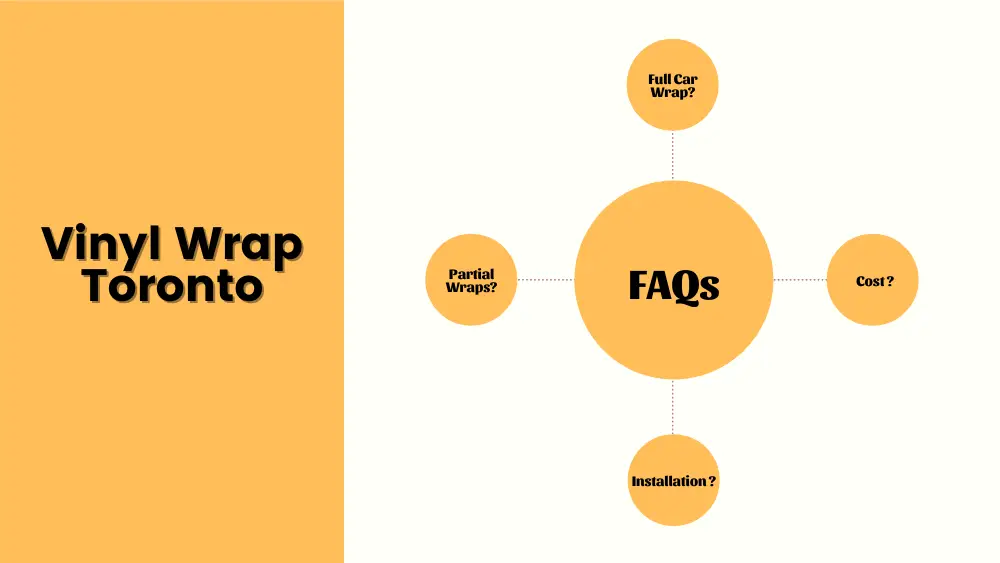 How much does a car wrap cost?
The cost of a car wrap depends heavily on:
The coverage of vinyl wrap; whether it is a full car wrap, partial wrap or decals
The material used to wrap the vehicle; at Vinyl Wrap Toronto, we only use Avery Dennison & 3M
Design complexity
Installation complexity
Call our experts today to get a free quote on how much it would cost to wrap your vehicle.
How long will it take to wrap my vehicle?
The installation time depends entirely on the complexity of the design and your vehicle. The turnaround time for a vehicle wrap can vary from an hour to two weeks. Our team provides accurate estimates for wrapping your vehicle.
Is my design file print ready?
Let us take a look at it. We'll review your file and let you know whether it is print ready or not for free! Send us an email at info@vinylwraptoronto.com.
Where do you install vehicle wraps?
We wrap vehicles from all over across the Greater Toronto Area.  Visit our garage to see us in action.
How long does a car wrap last?
On an average, if you're using premium quality vinyl such as Avery Dennison & 3M, it should last for 5-7 years. The lifespan of a vehicle wrap also depends on how you maintain it. Here's how you can make your vinyl wrap last longer.
Is vehicle wrap/car wrap durable?
Vinyl wraps can last up to 5-7 years depending on several factors like sun exposure, where you live, climate, and more. If your vehicle is majorly on the road, you can expect 2 years short life expectancy. Another factor that can affect wrap lifespan is the installation process. Improper installation can quickly start showing signs of wear, conditions like peeling or getting dirty under the wrap. Vinyl can be finished with UV-resistant protection that keeps its colors bright over the years.
Does car wrap damage the paint?
Absolutely not! Vehicle wraps do not damage paint unless it is a poor paint job. Instead, car wraps provide an extra layer of protection to the surface. When you plan to remove the vinyl, the paint will look as new as it was before.
Is vehicle wrap cheaper than paint?
Definitely!  Wrapping has an advantage over the paint because of less intensive preparations and application. The cost for wrap might vary depending on vehicle size but it requires less amount of time than paint. The paint job requires disassembling all the parts, whereas wrap can be done without that. Additionally, the wrap has easy repairs while scratch on paint requires grinding, repainting, and more.
Is vehicle wrap advertising effective?
Yes! Vehicle advertising can be the most effective and efficient form of out of marketing. It makes a great first impression and stands out from other cars on the road. It acts as a moving billboard for your business and therefore, possibilities from mobile exposure are nearly endless.
Can a vehicle wrap be removed?
Yes! The vinyl can be removed. All you need is a heated surface (heat gun), experience, and patience. It is ideal that the wrap should be heated to reach a certain degree and pulled back using both hands, but one can do it without the gun too.  Do not yank the film.  If the car wrap has been on the vehicle for more than 3 years then there is a chance that the adhesion is strong, therefore, we recommend taking professional help.
Can you polish vehicle wrap?
Yes, you can polish vinyl wrap but not like the usual way. You can use vinyl wrap-specific polish to give your wrap the proper shine it needs. If possible, choose a brand-specific polish to match the brand of your wrap like a 3M polish for your 3M wrap. If you're not sure of your brand, you can always check installation paperwork or call the company that installed your wrap.
Can I wax a vinyl wrap?
We do not suggest waxing your wrap because it can damage vinyl. Adding a protective wax finish to paint may protect it from exposure but not wrap.
How much does a car wrap cost?
Car wrapping price depends on multiple factors like size of the car, wrap type, material, customizations, and labor. It can be as low as 450$ and can go more than $10,000, you can request a quote at 647-559-5939 for exact pricing information.
How to remove car wrap?
The removal of car wrap involves multiple steps.
Start by loosening the wrap with heat. This makes the vinyl material more flexible and loosens the adhesive underneath. Once the wrap feels warm, you can move on to the next step of lifting and pulling. Lift from an edge to start the removal. If you used a primer to seal down the edges of each vinyl section, it may be tedious to get under the edges with your fingernail. In such cases, you can use a plastic razor blade to gently peel up the edges. Once peeled, firmly grab it, and gently lift it to pull the piece off the surface of your vehicle. Use a heat gun if you find it necessary. When done, move to cleanup with adhesive.
Where to buy vehicle wrap?
At Vinyl Wrap Toronto, we sell 3M and Avery Dennison vinyl material.
Will vinyl wrap stick to primer?
Vinyl wraps can hold on to any primed surface. It is not required to have topcoats on the primer. However, you are advised to use an adhesive promoter on curves so that the wrap can stick to it strongly.
Vinyl wrap can hold on to nearly any surface even bare metal, but there are some things you should consider when wrapping over primer. Before wrapping, we would advise you to first complete the usual car painting process give the paint some time to fully cure before wrapping.
What are the advantages of a vehicle wrap?
It is cost-effective
It reaches a wider audience
It protects a vehicle's body from scratches and dents from road debris
Attention-grabbing
To know more head to our blog here.
Can car wrap be polished?
Yes, you can polish your vehicle, but it is advised is to use vinyl-specific cleaning and polishing agents. Using conventional solutions like Citrus/oil-based cleaners or engine degreasers can damage the vinyl. Always seek out professional help.
Is it legal to wrap my vehicle?
Currently, a vehicle wrap is completely legal but consider notifying your insurance company that you have your car wrapped. Although the cost of your insurance is unlikely to change, the company will want to be aware of any costs regarding fixing or replacing the wrap – if you're involved in an accident.