There are two kinds of people in the world, ones who like to do things on their own, and ones who would rather have them done by professionals trained in that particular area. No matter which side you lean towards, you've got some research and decision-making to do. In this post, we're about to give you a breakdown of whether you should install vehicle stripes on your own or get them done by professionals.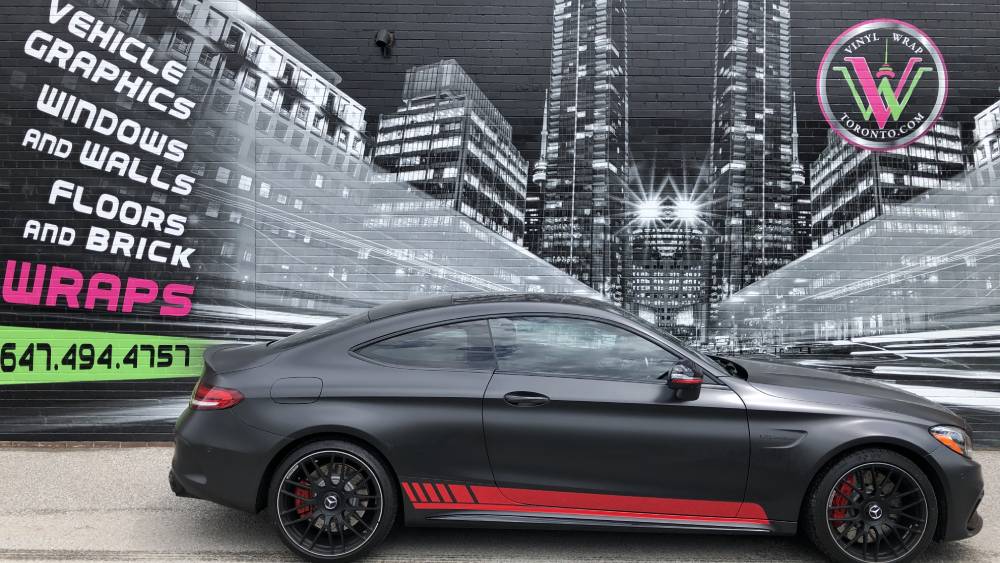 Trying your hand on DIY Stripe kits:
Nothing is more satisfying than the feeling of achievement you get when you do something new on your own. However, perfection doesn't come easily. For something like installing vehicle stripes, here's what you'd need before you try and lay those babies on your vehicle.
Where are you buying the stripe kit? The reputation of the shop or online store from where you're buying the stripe kit, matters. Make sure to read the customer reviews and product specifications before you go ahead and checkout with your order.
Are you aware of which material to pick? Speaking of product specifications, one of the most important things that you should be paying attention to is what material the stripes are made of. There are tons of different types of vinyl material available on the market, but for stripe kits, you want to make sure that it's the kind that's specifically manufactured to be installed on vehicles. The Vinyl Wrap Toronto team recommends 3M's 1080 and 2080 series and Avery Dennison's SW-900 series. Of course, there are more options available out there, but these two have been on the market for the longest of time and have marked their presence in the vehicle wrap industry.
Have you taken the time to think about the design and size of stripes? If you have decided to get stripes on your vehicle, chances are you do not plan to get rid of them anytime soon. As humans, we have the tendency to get bored with things quite easily. So, you might want to spend some time thinking about which design and colour you can bear to look at every day. Apart from that, ask yourself, does the design I'm considering enhances the overall aesthetic of my vehicle? The whole purpose of getting the stripes is to make your ride look as cool as possible. Visualize which design would go well with your vehicle.
Are you aware of the procedure? When you find the right material and design, the real job begins. Everything till this point is just fulfilling the requirements. Installing stripe kits is not like putting a small sticker on a surface. There's a whole process that needs to be followed. The first thing you want to do is do it at a place with the least amount of dust particles in the air. The second thing is to clean any dust or wax from your vehicle's surface before attempting to install stripes. At VWT we clean the vehicle first with vinegar and then with alcohol. The third main thing to do is to calculate the positioning and alignment of where the stripes should go. That's it, now you can go ahead and start installing those babies with just a squeegee and some pre-masking tape. Our advice is to take your time while installing the stripes to make sure everything is laid down properly. In the past, we've had several clients come to us after a failed attempt at installing stripes on their own. Not only does it make the stripes useless, but it can also damage your vehicle's paint. So, think before you start. Sometimes trying to save some bucks can backfire on you.
Getting stripes installed by a wrap shop:
If you're anything like me, everything written on top is just too much work to get into for something that you probably would not be doing regularly. However, that doesn't mean you don't have to do anything. Here's what you are looking into when you're getting stripes done by a professional wrap shop.
Are you picking the right wrap shop? The most important thing that you need to decide on is to make sure whether you're picking the right wrap shop to do the job or not. In order to make a better decision, there are some things you can consider. Does the wrap shop have a website? If so, are the products or jobs featured on the website appealing to you? Are their installers certified? How long have they been in the industry? Do they have good enough reviews on their Google business page? If the shop checks out these questions, you've got yourself a potential winner.
What kind of material do they use? When you're considering the shop, the next thing to find out is the material they use to cut out the stripes. Make it a general rule of thumb that anything other than 3M's 1080, 2080 series and Avery Dennison's SW-900 series is simply unacceptable.
Do they offer custom design? One of the perks of getting stripes done by a wrap shop is the fact that you can have them custom-designed. If you want to make a statement and get stripes that aren't selling out to the general public, you could get yours custom-designed. At Vinyl Wrap Toronto, we have our clients directly communicate with our graphic designers to design their perfect stripes for their vehicles.
That's literally it. Once you're done with the above-written procedure you can just sit back and watch the magic happen. If you've picked the right vehicle shop, you can rest assured knowing the stripes will be laid down perfectly and make your vehicle look more sickening than ever.
Now the decision is yours to make whether you want to try your hand at installing stripes or get them done professionally.
Check out our portfolio here. Feel free to reach out to us at 416-746-1381 to order stripe kits, learn about stripe kit costs, or get them done by our installers.