RV Custom Full Vinyl Wrap; Paint Jobs Vs Wraps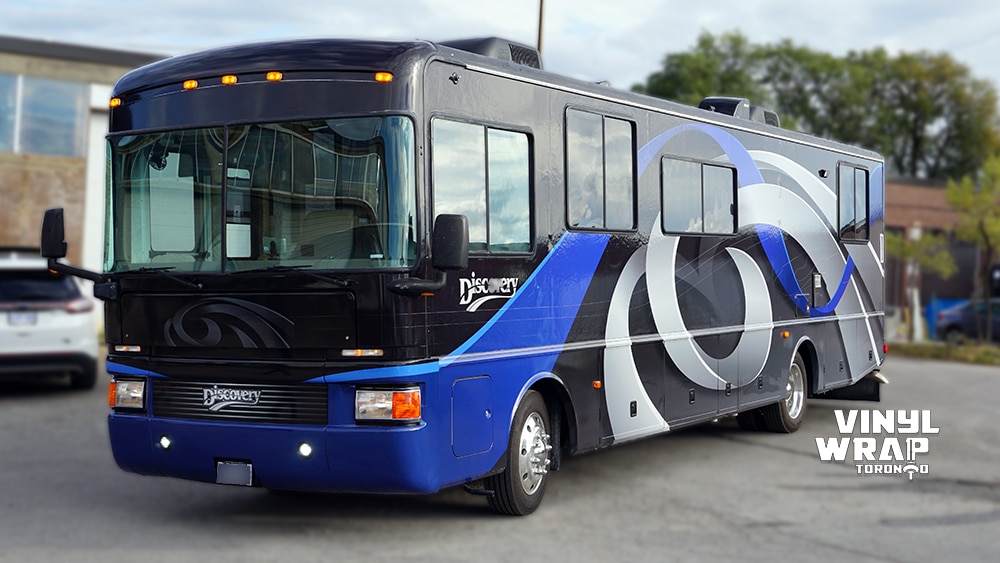 RV Full Wrap By Vinyl Wrap Toronto
When you're looking to update something that's as big as an RV, it is important that you're aware of all of your options. At Vinyl Wrap Toronto, we do our best to spread awareness about vinyl wraps. So recently, we sent out promotional calendars to thousands of our neighbours.
This couple owned an RV and it had been with them for a long time. They decided it was time to give it a fresh look. The couple was originally looking to get the RV painted. Fortunately, it was around the same time we sent out promotional calendars. Upon receiving Vinyl Wrap Toronto's calendar, the couple decided to visit our garage and talk to our team. We answered all of their questions and showed them examples of our previous and current wraps.
After the meeting, the couple had to make a choice and they made the right one when they decided to get a vinyl wrap because we explained all the advantages that vinyl wraps offer. All they wanted to do was to freshen up the RV's look. However, they didn't yet have a specific design that they wanted to get. So, our experts helped them make up their minds. After they agreed to get a custom design of their choice, it was time for our skilled graphic designers to start rendering the design into a digital mockup. Being experienced in their crafts, it didn't take long for our designers to accomplish a look that the client loved. 
The clients approved the designs and we started the printing process in-house. We used Avery Dennison printable with matching laminate. Our installers then took over and started the actual wrapping process. Wrapping is not as easy as it sounds, especially when the vehicle is as large as a 40ft RV. One small mistake and it'll be the only thing people see, like a stain on white. Our installers take their job seriously and handle the vehicles with the utmost respect as if it's their own. On top of a full wrap, we installed two "Discovery" stickers on the RV.
The end result was as expected, perfect and the clients will testify that. After seeing their wrapped RV the couple referred us to their friends and one of them wants to get their golf car wrapped by us. Since the clients are so happy with the results they want to get their Smart Car Fortwo and a friend's Golf Cart wrapped by Vinyl Wrap Toronto, so keep a lookout if you'd like to see the pictures after we're done wrapping them.
Vinyl Wrap Toronto is always open to challenges and although it wasn't much of a challenge for our installers, it was a bit too big to fit into our garage. So, we arranged for a bigger place to wrap it. The couple was completely satisfied with the job we did. We've attached some pictures on this page for you to see.
Read: Personalize your vehicle with Vinyl Decals.
To see more pictures of the vehicles we've wrapped, check out our blog page here.
If you're looking to give your vehicle a fresh new look, feel free to call us at 416-746-1381 or visit our garage located at 24 Ronson Dr, Unit 1, Etobicoke, ON, M9W1B4, to speak to one of our experts and get a quote.