Ford F-150 Truck Decals Nusens – Avery and 3M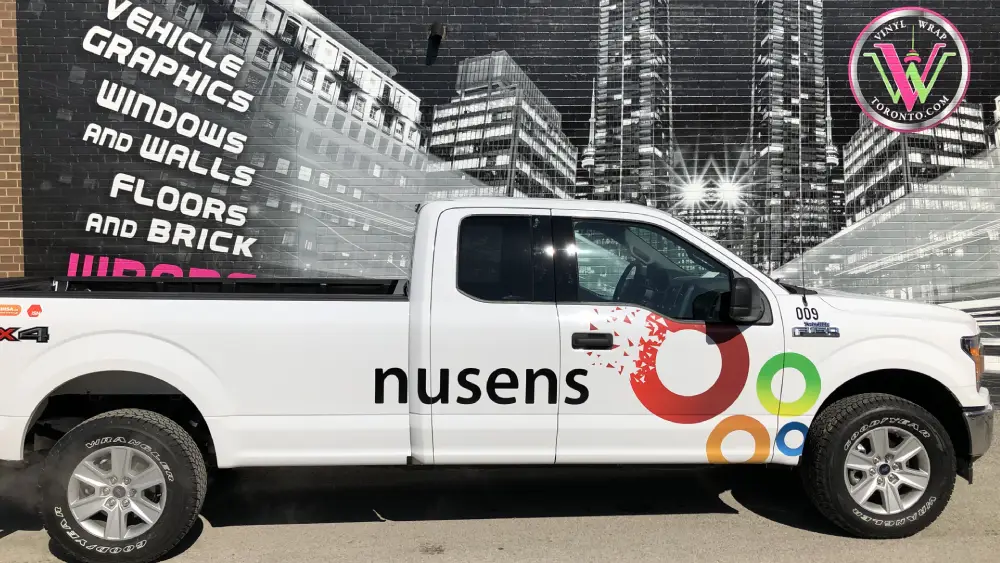 Truck Decals
The Nusens F-150 truck arrived straight from the Ford dealer, ready to get truck decals. The truck was bought to replace an existing Nusens vehicle #009. Vinyl Wrap Toronto has been working with Nusens for many years. They come to us for all their corporate printing of banners, business cards, and catalogs. The F-150 is an awesome truck for a company like Nusens due to the nature of its business. This F-150 is a SuperCab, which is slightly shorter than the normal Nusens F-150 SuperCrew's. Our design team had to resize the Nusens decals to match the new F-150 truck's dimensions.
For our design team, this is normal when we do multiple versions of the same vehicle. Click here to view the Ford Transit van Vinyl Wrap Toronto applied truck decals.
Vinyl Wrap Toronto also does personal vehicles, watercraft, and recreational vehicles. We can wrap almost anything in vinyl if it can fit in our garage during the winter. That is because the object or vehicle being wrapped needs to be warm so the vinyl adhesive sticks. This is also the reason why during the winter period we ask to keep the vehicle for at least 36 hours.
That allows the vehicle or object to warm up enough and then time for the vinyl adhesive to take effect. Most adhesives or glues do not act very well in the cold. This could lead to the vinyl failing or starting to peel.
The vinyl suppliers we use are Avery Dennison and 3M which guarantee the vinyl to last up to 7 years.
We also offer Workwear and corporate apparel which we can also brand with your company's logo or slogan. Visit us in-store at 24 Ronson Drive, Unit 1, Etobicoke to see our studio for more options.
Like us on Facebook, Follow us on Instagram, Heart us on Twitter and add a Comment on Pinterest. To check out more truck decals, click here.