Vinyl Wrap Toronto is a premier vehicle wrap shop in the heart of Toronto, specializing in providing top-notch vinyl wrapping services. With our team of skilled professionals and state-of-the-art facilities, we are committed to delivering exceptional results that exceed our clients' expectations.
Our recent collaboration involved an exciting project with Smart Way Cleaning, a leading commercial cleaning service in the Greater Toronto Area (GTA). As Smart Way Cleaning expanded its reach and aimed to elevate its brand presence, they recognized the power of advertising on their fleet vehicles. They approached Vinyl Wrap Toronto with a specific request: promotional decals for their Mercedes Sprinter SWB High Roof van.
To ensure the utmost quality and durability of the decals, Vinyl Wrap Toronto chose to utilize Avery Dennison's top-of-the-line printable vinyl. Known for its exceptional performance, Avery Dennison's printable vinyl offers vibrant colours, excellent adhesion, and long-lasting results. By combining our expertise with this high-quality material, we were able to create a visually stunning and effective promotional solution for Smart Way Cleaning.
Stay tuned as we delve into the journey of designing, preparing, and installing eye-catching van decals on the Mercedes Sprinter SWB High Roof, showcasing our commitment to excellence and the transformative power of vehicle wraps.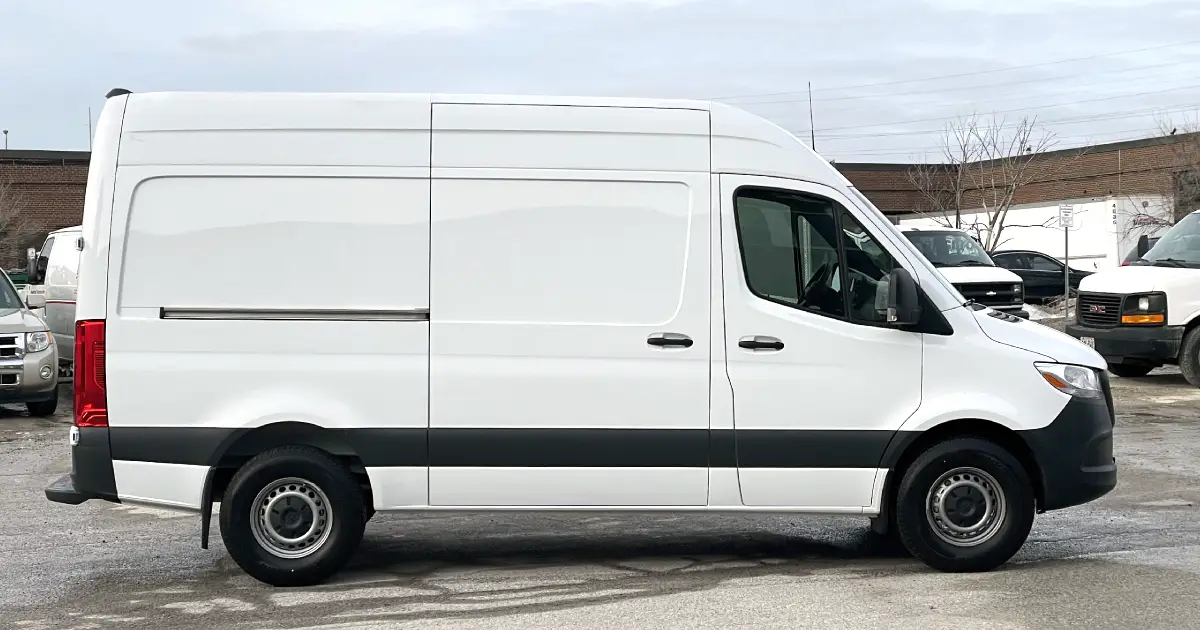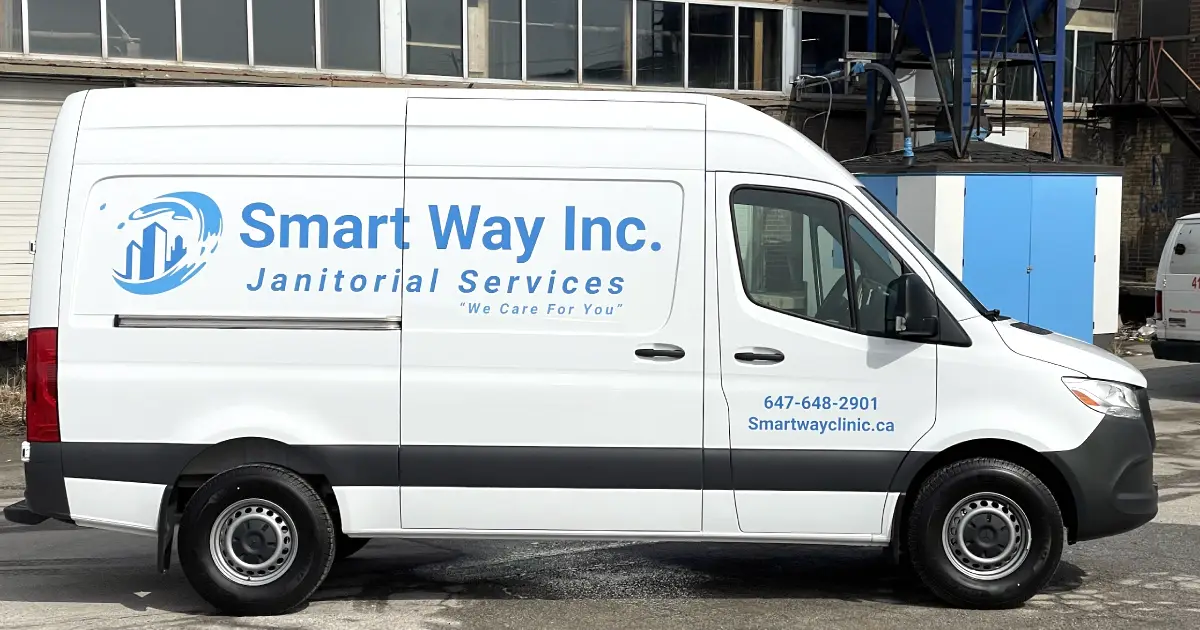 Designing the Van Decals for Mercedes Sprinter
The design journey began with a comprehensive consultation with Smart Way Cleaning. We took the time to understand their brand, values, and vision for the Mercedes Sprinter SWB High Roof van decals. By actively listening to their requirements and goals, we were able to lay the foundation for a design that would effectively promote their business.
One valuable aspect of working with Smart Way Cleaning was their provision of the logo file. Their logo represents their brand identity and is an essential visual element in their marketing efforts. By incorporating their existing logo into the van decals, we ensured brand consistency and helped Smart Way Cleaning establish a strong and recognizable presence on the road.
Our talented design team transformed Smart Way Cleaning's vision and logo into an eye-catching design for the Mercedes Sprinter van. We focused on creating a design that not only captured attention but also conveyed the essence of Smart Way Cleaning's services. By leveraging our expertise in layout, colour selection, and typography, we crafted a design that effectively communicated their message to their target audience.
At Vinyl Wrap Toronto, we understand that successful vehicle wraps go beyond aesthetics. It is essential to create a design that aligns with the client's branding and resonates with their target audience. For Smart Way Cleaning, we incorporated elements that represented cleanliness, professionalism, and their commitment to excellence. This strategic approach ensured that their van decals would not only catch the eyes but also leave a lasting impression on potential customers.
By investing time and effort in understanding Smart Way Cleaning's brand and target audience, we were able to create a design that perfectly encapsulated their values and attracted the attention of their desired clientele. Join us as we move forward to explore the installation process and the transformative impact of these van decals on the Mercedes Sprinter.
Preparing the Mercedes Sprinter
Before applying the captivating van decals, ensuring the Mercedes Sprinter SWB High Roof was properly prepared was of utmost importance. Our team followed a series of steps to guarantee a seamless and long-lasting installation.
One crucial step in the preparation process involved thoroughly cleaning the surface of the van. Our professionals washed the exterior, removing any dirt, debris, or contaminants that could interfere with the adhesion of the decals. By achieving a pristine surface, we ensured optimal bonding between the vehicle and the Avery Dennison printable vinyl, guaranteeing a flawless finish.
Additionally, we paid attention to drying the surface completely. Any residual moisture could compromise the adhesion of the vinyl, leading to potential issues in the future. By allowing sufficient drying time, we mitigated the risk of bubbles, peeling, or lifting of the decals.
In some cases, the Mercedes Sprinter required surface treatments or repairs prior to the installation of the van decals. Our experienced team carefully inspected the vehicle for any imperfections, such as dents, scratches, or rough areas. When necessary, we conducted appropriate surface treatments to ensure a smooth and even surface for optimal vinyl adhesion.
Moreover, any minor damages or imperfections were addressed to ensure a flawless result. Our skilled technicians repaired these areas, restoring the vehicle's surface to its prime condition. This step ensured that the decals would adhere perfectly, creating a seamless and professional appearance.
By following these steps, including thorough cleaning, proper drying, and addressing any necessary surface treatments or repairs, we ensured that the Mercedes Sprinter SWB High Roof was primed and ready for the installation of the eye-catching van decals. Join us as we move forward to explore the precise installation process and the impressive final outcome of this project for Smart Way Cleaning's brand visibility on the road.
Installation Process
The installation process for the captivating van decals on the Mercedes Sprinter SWB High Roof involved several critical steps. Our team of experts diligently followed these steps to ensure a flawless and visually appealing outcome.
1. Precision Measuring and Positioning
The first step in the installation process was measuring and positioning the decals on the van. Using specialized tools and techniques, our skilled professionals accurately measured the dimensions of the vehicle's surface and determined the optimal placement of the decals. This step ensured proper alignment and symmetry, enhancing the overall aesthetic appeal.
2. Expert Cutting for Perfect Fit
Cutting the Avery Dennison printable vinyl to fit the design was the next crucial step. Our experienced technicians followed the design specifications, carefully trimming the vinyl to match the desired shapes and contours. This precise cutting process was essential to achieve seamless integration of the decals with the vehicle's surface.
3. Professional Application Techniques and Tools
Applying the vinyl to the Mercedes Sprinter required the use of professional techniques and tools. Our skilled team utilized their expertise and specialized tools such as squeegees and heat guns to carefully adhere the vinyl to the van's surface. These tools ensured smooth and bubble-free application, resulting in a flawless finish.
The installation of van decals demands a high level of expertise and precision. Our team at Vinyl Wrap Toronto possesses extensive experience in handling intricate installations, enabling us to deliver exceptional results. Attention to detail, expert craftsmanship, and a keen eye for symmetry are crucial in achieving a visually stunning and professional outcome.
During the installation process, certain challenges may arise. However, our team is well-prepared to handle them with professionalism and expertise. Whether it's working around complex curves, dealing with intricate designs, or ensuring seamless transitions between panels, our experienced technicians apply their skills to overcome any obstacles. By employing innovative techniques and problem-solving strategies, we ensure that the installation process proceeds smoothly, resulting in an outstanding final product.
Throughout the installation process, our team's expertise, precision, and commitment to excellence ensure a flawless and visually captivating result. Join us as we move forward to explore the quality assurance and durability of the installed decals, showcasing their long-lasting impact on Smart Way Cleaning's brand visibility and recognition.
Final Result
The culmination of the installation process resulted in a truly transformed Mercedes Sprinter, proudly displaying the installed decals. The once plain and ordinary van now boasts an eye-catching design that effectively captures attention and promotes Smart Way Cleaning's brand message.
To highlight the remarkable impact of the vehicle wrap, we have included before and after pictures in this blog. These visuals serve as a testament to the transformative power of van decals and showcase how the Mercedes Sprinter has been elevated from a regular commercial vehicle to a rolling advertisement that demands attention on the streets of Toronto.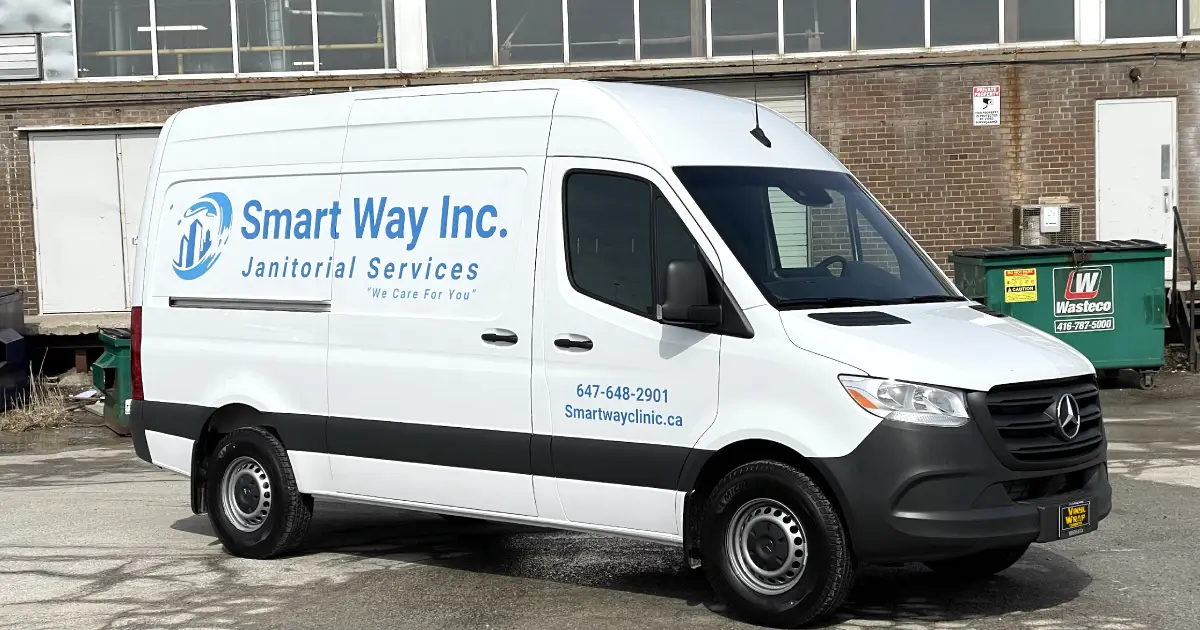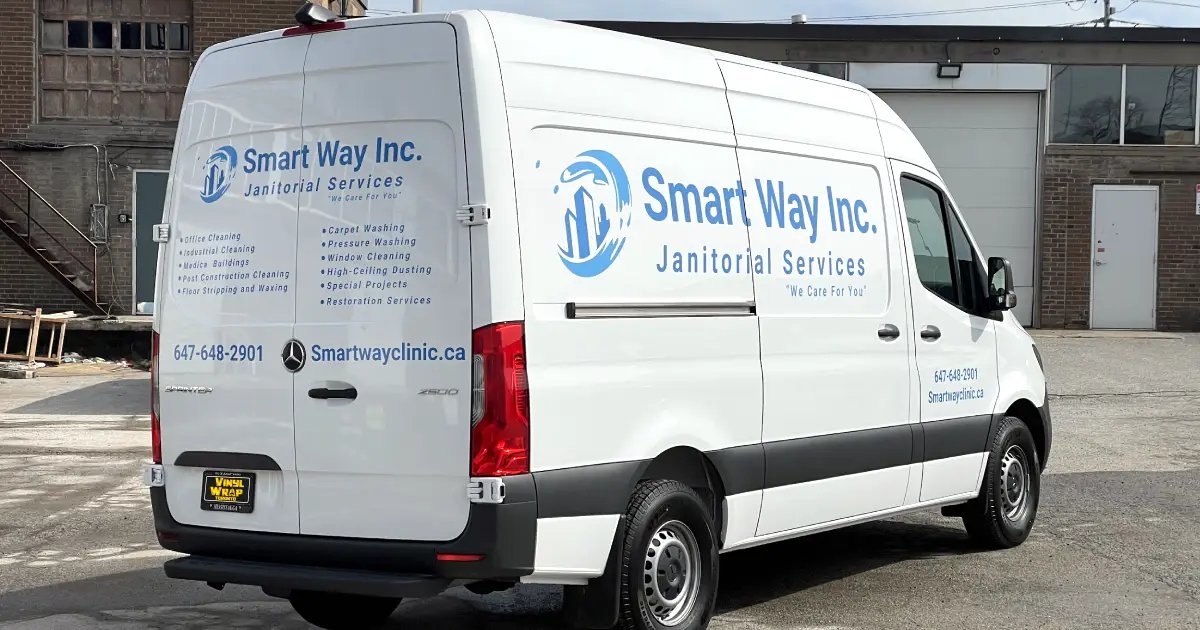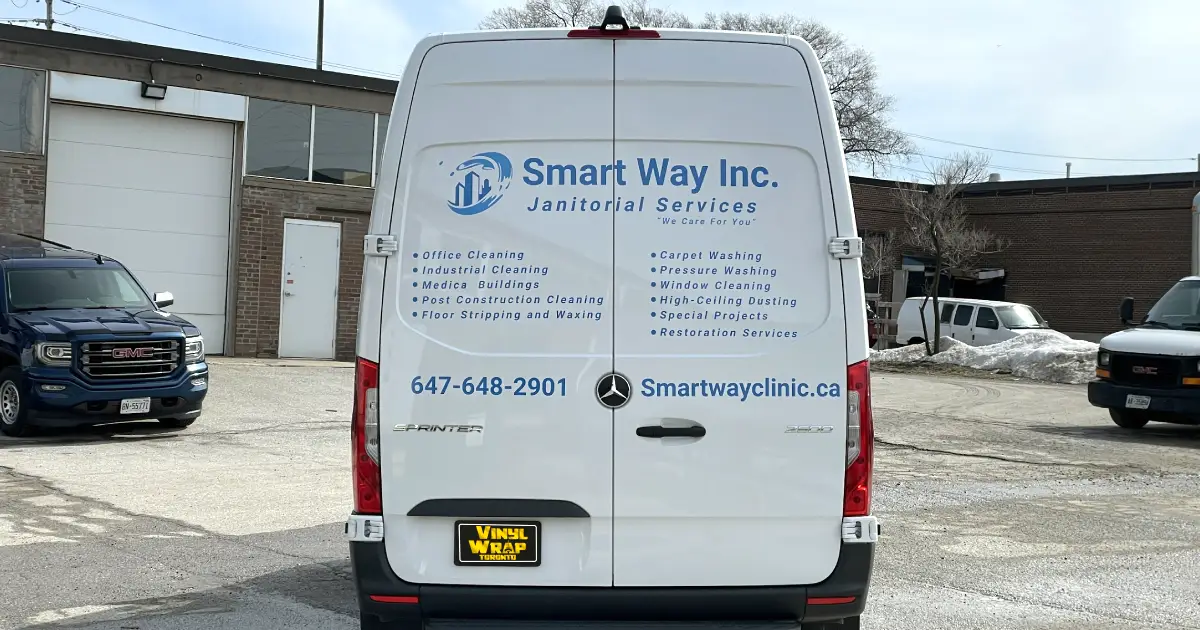 At Vinyl Wrap Toronto, client satisfaction is at the heart of everything we do. We take great pride in exceeding our clients' expectations, and Smart Way Cleaning was no exception. Their feedback and positive response to the final result of the project have been immensely rewarding. Smart Way Cleaning expressed their satisfaction with the professionalism of our team, the attention to detail in the design, and the overall quality of the installation. Their endorsement further reinforces our commitment to delivering outstanding service and exceeding client expectations.
With the installation of vibrant and attention-grabbing van decals, Smart Way Cleaning has unlocked a world of increased brand visibility and enhanced business opportunities. As the transformed Mercedes Sprinter hits the roads of the Greater Toronto Area (GTA), it acts as a moving billboard, creating widespread brand recognition and attracting potential customers. The eye-catching design and clear branding help Smart Way Cleaning stand out from competitors, leaving a lasting impression on viewers and potentially driving new business.
Conclusion
In conclusion, the collaboration between Vinyl Wrap Toronto and Smart Way Cleaning to install promotional decals on the Mercedes Sprinter SWB High Roof has been a resounding success. From the initial design consultation to the meticulous installation process, every step was carefully executed to ensure a flawless result. The use of Avery Dennison's printable vinyl, coupled with our expertise and attention to detail, has resulted in a visually stunning transformation.
Smart Way Cleaning now possesses a powerful mobile advertising tool, with their Mercedes Sprinter acting as a rolling billboard that captivates attention and promotes their brand. The client's satisfaction and positive feedback are a testament to our commitment to excellence and customer service.
At Vinyl Wrap Toronto, we pride ourselves on delivering exceptional results that exceed expectations. If you are looking to enhance your brand visibility and make a statement on the road, we invite you to contact us for your vehicle wrap needs. Let us help you unleash the potential of your commercial vehicles and take your brand to new heights.
Contact us at: