Volkswagen Beetle 2015 Interior Vinyl Decals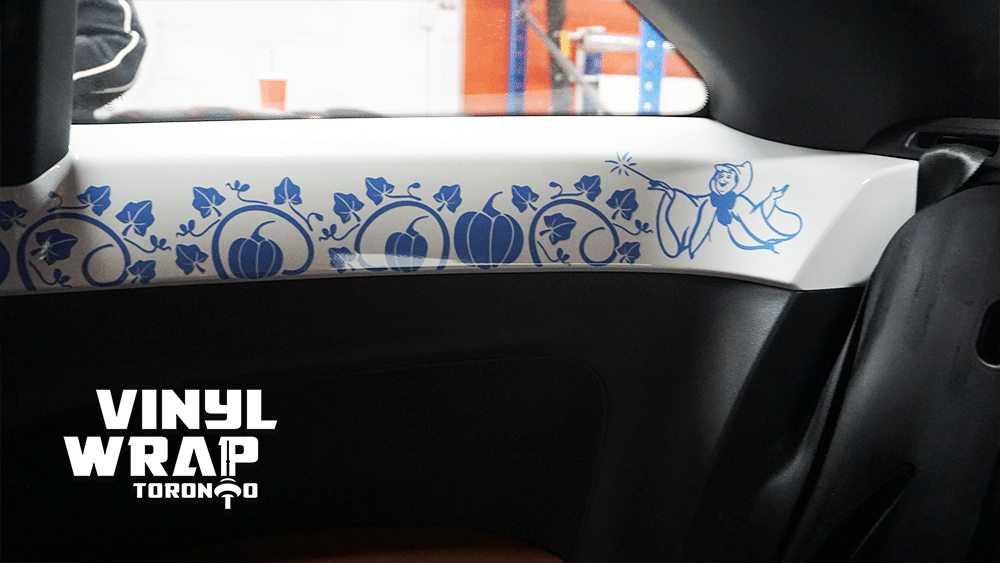 Volkswagen Beetle 2015 – Cinderella-themed Interior Pieces
Like we've discussed before, it isn't a one-time job to make the car your dream car. You will realize that once you get one thing done you'll want another one. The same as tattoos, once the creativity is allowed out, it's hard to stifle it.  It's human nature, and why shouldn't we if it gives us the pleasure of having something really cool? 
Our recent client Ms. Andrea had her Volkswagen Beetle fully wrapped by Vinyl Wrap Toronto. It wasn't just an ordinary full wrap, it brought a Disney fantasy to life. The Volkswagen Beetle went through a full wrap to become one step closer to being the perfect car the second and final step required more of Disney's magic. 
She brought the car in for the second time to get the interior done. It was like last time, an interesting job for us and we did the job with great pleasure. It was a series of decals that went around the car from the inside. Decals featuring the vines, pumpkins, and the three mice from the classic Disney Cinderella story. She chose the colour "Gloss Smokey Blue" from Avery Dennison's SW900 Series.
Since it was a lot of detailing, weeding the vinyl was a bit tricky, however, it was all worth it when we saw what we had accomplished. Everyone from our team to the client loved how it turned out. We've attached the pictures of the Volkswagen Beetle's interior and spoiler for you to feast your eyes on.
The thing about getting the interior of a car is that it does more for the owner of the car than it does for other people. Because the interior is something only the owner and the people who occasionally sit in the car, see. This goes on to say, it is absolutely worth it to do things that make you happy.
Tips While Getting the Interior of Your Car Done
To give you something to walk away with, experts at Vinyl Wrap Toronto have shared some gems carved with experience for when you wish to or consider getting the interior of your car done.
Follow Your Heart:

This can not be stressed enough. You as the owner will be looking at the interior almost all of the time. So, it will be wrong to take advice from someone else. Who knows you better than you do? Ask yourself what you wish to see every day and you'll have your answer. One trick would be to print out the design and stick it in place for a month and see if the design still gives you a 

Take your time to make a decision:

Following your heart and making an impulsive decision can turn into a nightmare pretty soon. It's like that new song we can not stop listening to but after repeating it about a thousand times, you start hating it. Similarly, make sure you get something that you can stand for a long time before you get sick of it. The key is to try to be minimal.

Experiment with Colours and Finishes:

Talk to an expert, it doesn't cost anything if you're just looking. See the available colour options you have and what kind of finish you want for the vinyl, it could be any Gloss, Matte, Satin, etc. 

Picture it:

Think of the inside of your car as your empty canvas and yourself as the artist. Anything you can imagine that fits on the pieces inside of your car that can be wrapped can be turned into reality.
If you have any further questions or concerns, feel free to give us a call at 416-746-1381 or visit our garage at 24 Ronson Dr, Unit 1, Etobicoke, ON, M9W1B4 to speak to one of our installers. At Vinyl Wrap Toronto, we have a team of experts who have mastered wrapping vehicles such as cars, motorcycles, trucks, vans, boats, trailers, etc.
To read more articles, visit our blog page. Check out more car decals here.