BamBam International Full Truck Wrap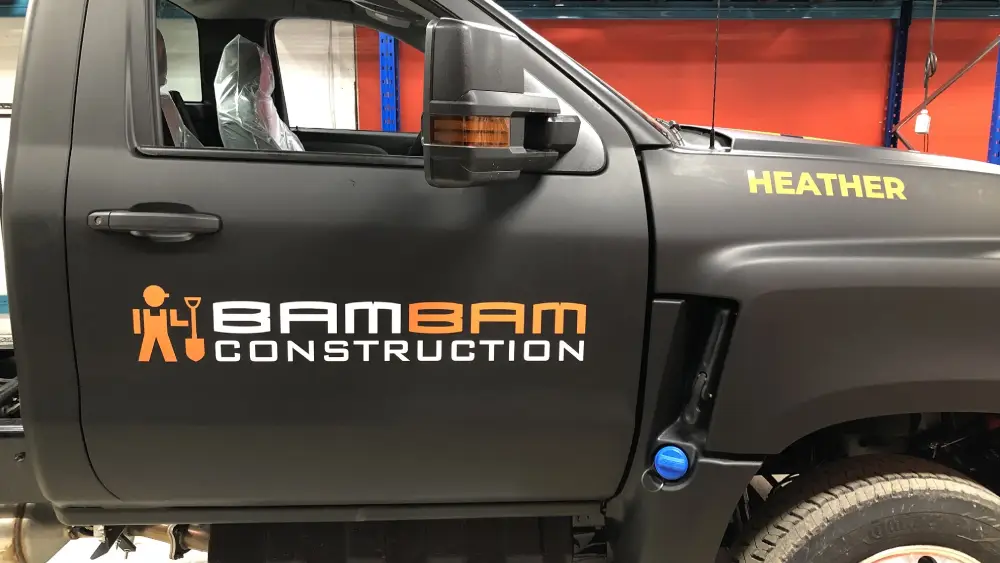 BamBam Construction Full Vinyl Truck Wrap
This newly-released International truck for 2020 arrived from one of our neighbours and regular clients. BamBam Construction wanted this new 2020 International Truck fully wrapped. The truck was already black when BamBam Construction took delivery. They wanted to wrap the whole truck in Matte Black vinyl. In the images, you can see the difference between the black hood and the side of the truck. The client has a few trucks now wrapped in matte black, this is part of their branding. As part of the full wrap, the company asked for us to add the logo to the hood and doors. The graphics team enlarged the stick figure in the logo for the hood graphics.
Speak to our team if you have an idea about wrapping your vehicle. Our graphic designers can turn your vision into a reality. Then our installers can transform your vehicle from factory standard to attention grabbing.
The truck arrived with the front grill and a few other pieces missing, which the client had removed before delivering to us. Once Vinyl Wrap Toronto had completed the wrap, the truck was due for the cargo bed to be installed. The client and our installation crew discussed the best options for the vinyl installation. It was agreed that the cargo bed would be attached after the wrap was completed.
We used Avery Dennison Matte Black to complete this full truck wrap with Orange and White decals for the logo. Click here to view more wraps. One recommendation, speak to our installation team before deciding on the vinyl material. There are some things to consider when choosing a finish.
Vinyl Wrap Toronto can wrap almost anything, Call us at 416-746-1381 for a quote.
Like us on Facebook, Follow us on Instagram, Heart us on Twitter and add a Comment on Pinterest