Ford Mustang 2019 Gloss White Racing Stripes & Tips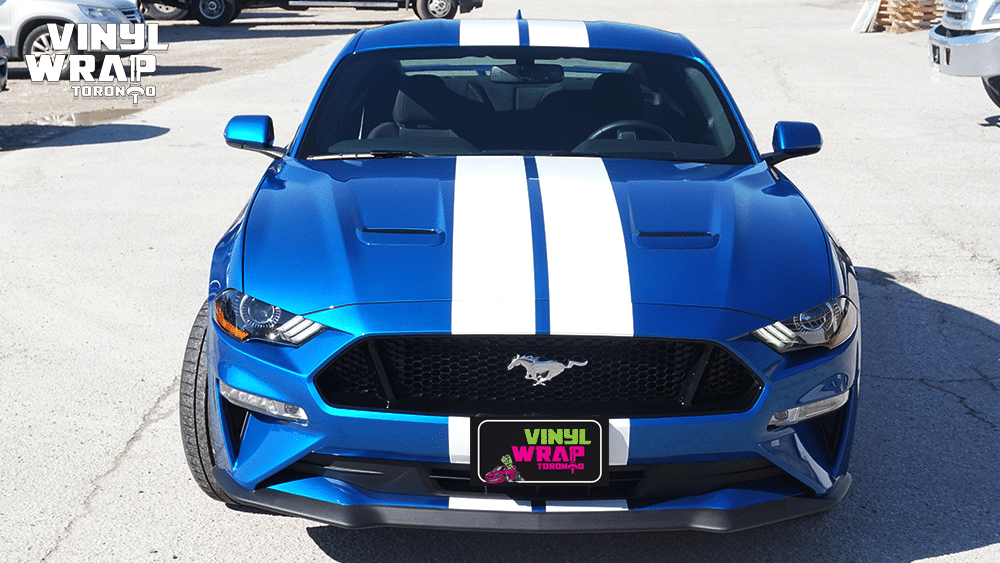 Ford Mustang California Special 2019 Gloss White Racing  Stripes
There are two kinds of people on earth. The people who have a car just for the sake of going from one place to another with the least regard to what the car looks like. And the second kind, the complete opposite of the first kind. For these people, driving is about making a statement wherever they go. This blog is for individuals belonging to the second; car enthusiast kind, if you think you're the first type, everything after this sentence is only going to make you cringe (LOL).
The reason we're including a segment about "Things to remember while getting racing stripes" is because this particular client, unfortunately, had to get them done all over again. Not because he didn't like the job we did, but because he later realized the colour he picked for the stripes is not working for him. 
He brought in his gorgeous Ford Mustang 2019 California Special a while ago and placed an order to get racing stripes at Vinyl Wrap Toronto. We took the car in and decided on what he wanted. At the moment the client had his heart set on getting the "Matte Dark Grey" from Avery Dennison's SW900 Series.
Although we did a flawless job, and the fact that he came back to us to get them done in a different colour proves it. The reason he wanted to replace those racing stripes on his Ford Mustang 2019 is that he believed the colour of those racing stripes didn't enhance the beauty of it. He was unhappy with the contrast of how they looked on the Ford Mustang 2019. When the customer originally picked the colour, we gave him multiple options but ultimately it was his choice. 
He came back to us with his Ford Mustang with almost new racing stripes and requested a change. This time he picked the "Gloss White" colour from Avery Dennison's SW900 Series. A colour that definitely made his blue beauty pop and is more to his style. Our installers did a marvellous job as always and the client drove home satisfied with the job. We've attached pictures of the Ford Mustang 2019 with the old stripes and new ones for you to see how much of a difference can colour selection make.
Inspired by this client's situation, experts at Vinyl Wrap Toronto have some advice for anyone who's looking to get racing stripes on their vehicle. 
Decide the kind of output you want

It is extremely important that you make up your mind about the kind of results you're looking for, whether it should be minimal and subtle or it should be bright and not at all subtle, you need to know before placing an order. 

Know your vehicle

Take a good look at your vehicle. The design, the colour and the finish, because the racing stripes you pick have to add to the beauty of all those things.

Know Your Options for Colours and Finishes

In order to make a better decision, it is important that you ask the installers for colour swatches so you can see the available colour and finishes. Giving you the opportunity to pick the one that catches your fancy.

Decide Where to get the stripes

Where you decide to get the racing stripes can make a world of difference. Whether it is on the hood and top or on the sides, you should give it a thought before making a decision.

Explore around for inspiration

Whether you search online, go to car shows, or see a vehicle on the road you like. It's best to take a picture or print out the design and keep it somewhere where you see it every day. That way you will be confident about the finished look when you get the wrap.  
If you have any questions or concerns regarding racing stripes or any other vehicle graphics, reach out to our team at 416-746-1381 or visit our garage located at 24 Ronson Dr, Unit 1, Etobicoke, ON, M9W1B4 to speak to one of our experts.
To read more articles, visit our blog page.
Check out more car decals here.