Chevrolet Ambulance – Custom Full Vehicle Wrap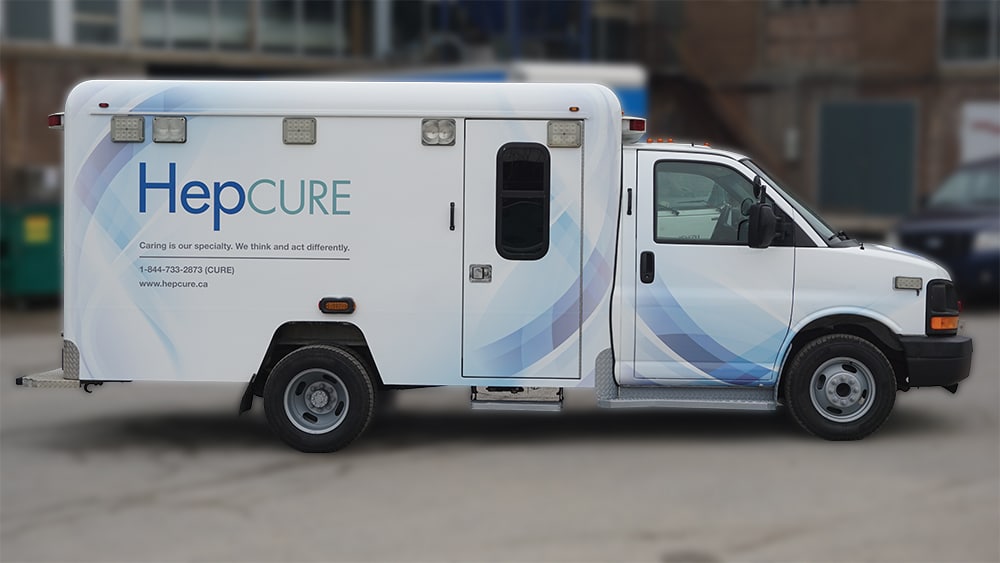 Chevrolet Ambulance Custom Full Wrap | HepCURE
When we say we can wrap any vehicle, we mean it. Our portfolio testifies for us. From small objects to large RVs, we have dabbled into wrapping almost everything. Adding to the list of vehicles we transformed into pieces of art, we recently wrapped this Chevrolet Ambulance for HepCure. 
HepCURE is a non-profit organization supporting community agencies and service organizations to optimize access and treatment services for marginalized patients requiring Hepatitis C treatment. 
People at HepCURE wanted to spread awareness about their cause and wanted to do it in a way that actually works. They contacted us and wanted to discuss a full wrap for their Chevrolet Ambulance. All they had was an idea of what they wanted. When it came to specifics, they were not really sure about a lot of the options. So, our team of expert designers worked hard and came up with more than 5 unique designs for wrapping the Chevrolet Ambulance. 
The client chose the one that caught their eye the most. Incidentally, it was the design that was going to be a bit of a challenge for our installation team. Due to a lot of elements in the design that needed to connect perfectly and the graphics being very minimal, it was a complex job to get it right. But our installers' hard work and experience gave them the confidence to take on the job and do it with absolute precision.
We used Printable Vinyl offered by Avery Dennison to print the custom design. At Vinyl Wrap Toronto, we only use quality material offered by Avery Dennison & 3M.
The wrap features a beautiful and minimal pattern going all around the Chevrolet Ambulance with their logo, slogan, contact number, and website featured on both sides. The rood, roof, and back feature their logo as well. We've attached pictures of the Chevrolet Ambulance on this page.
Custom Wraps:
Custom Wraps could be anything of your liking designed by a designer that is later printed on printable vinyl. It gives you the freedom to go wild with your imagination. Consider yourself an artist and the vinyl will become your canvas. 
Over the years, based on our analysis we have seen that people want custom wraps for personal reasons and very rarely for commercial jobs. We have a team of designers that has years of experience and is ready to manifest your dream wrap into reality.
If you have a vehicle or even an object that could use a bit of vinyl goodness, give us a call at 416-746-1381 or visit our garage located at 24 Ronson Dr, Unit 1, Etobicoke, ON, M9W1B4 to speak to one of our experts. 
To read more stories, visit our blog page. Check out more of our work here. 
You may also like to read: