Mobile Advertising – Custom Car Wraps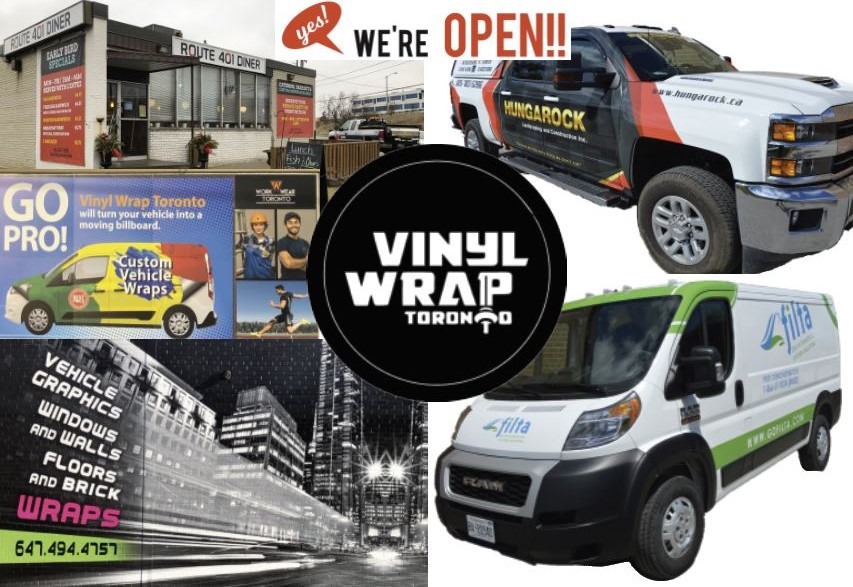 Let the community around you know that you are open with Mobile Advertising
As the government is lifting restrictions and allowing more businesses to reopen, one of the best ways to ensure your business flourishes is with mobile advertising. Vinyl Wrap Toronto with its partners 401Graphic offers a one-stop-shop or garage for all your advertising needs. We can print and install wall graphics, window, and shop front signs as well as advertisement boards. Click here to view some of our signage work.
Vinyl Wrap Toronto can turn your company and or personal vehicle into a mobile advertising board.
Our in-house graphics team can work with you to ensure you stand out and capture your audience's attention. We offer everything from full wraps to car magnets depending on your needs and budget. Magnets are a great way if you want a temporary solution or convey a message only for a short time. They are also easily removable and transferable from one vehicle to another. Speak to our installation team about your needs and see if magnets would be suitable for you.
Why Choose Mobile Advertising:
Mobile advertising via vehicle wraps is cost-effective considering their lifetime.
It is a non-aggressive way of advertising because you're not interrupting people to watch your ad as in the case of online ads.
Your vehicle becomes a moving billboard, promoting your brand everywhere it goes.
With commercial vehicle wraps, you can get any design you want.
A commercial wrap that fully covers your vehicle, will protect its paint for years.