Object Vinyl Wrap; Make your favourite objects one of a kind
When people hear "Vinyl Wrap Shop" they usually think it's all about wrapping vehicles and to be honest, that is true for most of the wrap shops out there. However, when a business has been serving clients for years wrapping all kinds of vehicles. No matter big or small, it is not unusual for professionals to start experimenting with something that's beyond vehicles.
At Vinyl Wrap Toronto, we have wrapped cars, motorcycles, trucks, boats, motor homes, vans and everything in between. So, it made sense that our designers and installers wanted to push their limits and wrap objects. We all have objects that we use on a regular basis that could use a personalized touch. The problem however is the fact that there aren't a lot of options out there.
In most cases, to personalize an object people just go for mass-produced stickers or decals, but that's not unique and personal. And the manufacturers only produce stickers that they know are desired by a large audience such as something related to viral trends on the internet.
Now, what about the people who possess a unique sense of taste? There are few to no choices. This is why we started to wrap objects for our clients who wanted to personalize their favourite objects.
Over the years, we've wrapped the following objects for our clients:
1. High Heels:
Now you must be wondering, how would someone customize a pair of heels with a vinyl wrap? Well, that wasn't an issue for our genius designers to come up with an idea that turns an ordinary pair of heels into a work of art. Here's what the heels look like after a touch of some vinyl goodness.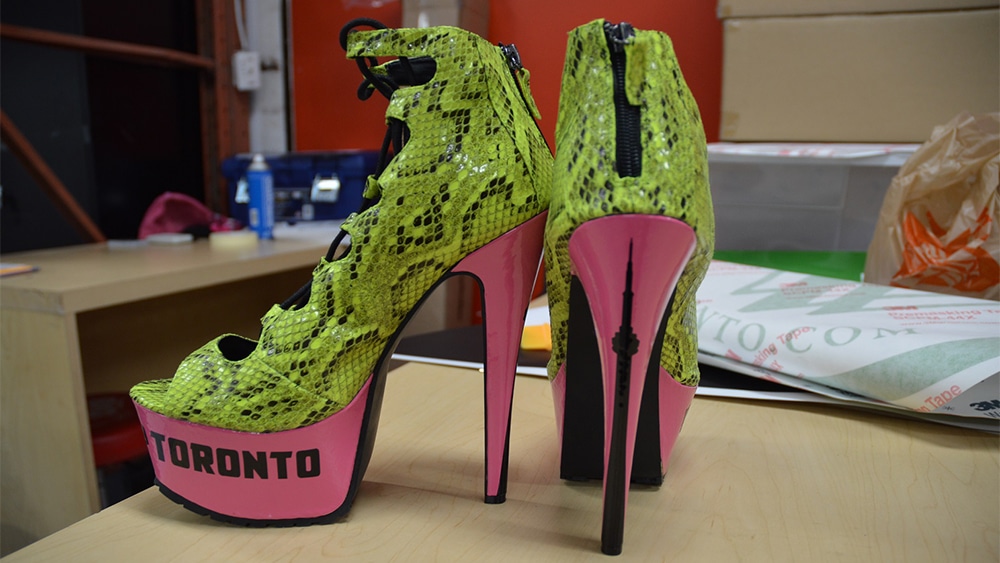 2. Guitars:
Let's be honest. We all know someone who has a guitar lying around the house even if they don't know how to play it. Some people just do it for the sole purpose of decoration. One of our clients wanted to take it to the next level by customizing the guitar with their favourite TV show characters from the popular animated comedy series "The Simpsons". Our team took the opportunity to come up with a unique style based on the instructions given by the client. Here's how it turned out. See more pictures of the guitar here.
3. Laptops/Macbooks:
For laptops, you can find thousands of skins on the market with various designs. But the problem again is that those designs are the ones that are carefully chosen for a large audience. For our client who works as a DJ, nothing on the market matched his vision. So, he contacted us and got a custom-designed object wrap for his laptop.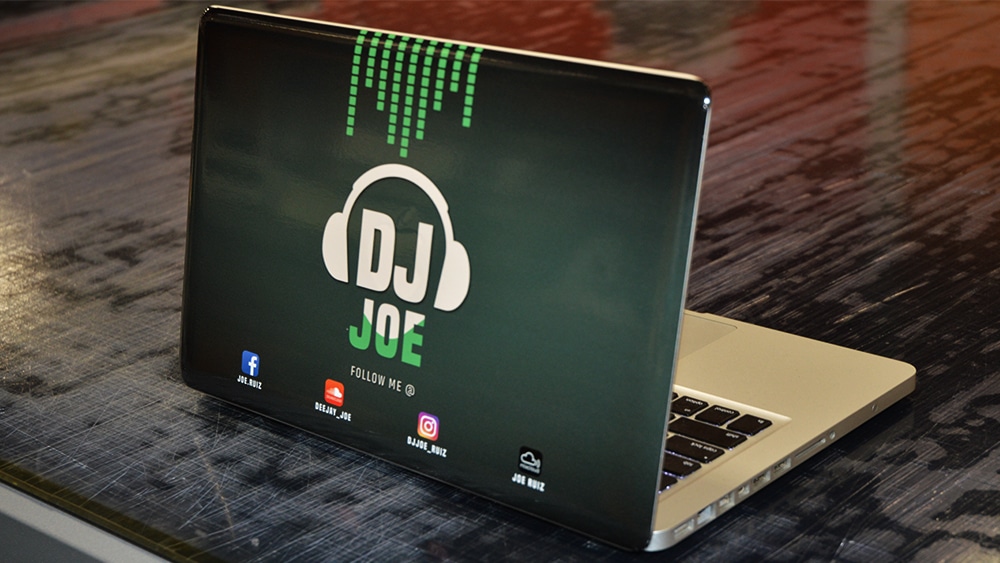 4. Tables:
Tables usually do not come in a lot of designs and colours. At Vinyl Wrap Toronto, we saw it as an opportunity to do something unique. ANd here's what it ended up looking like.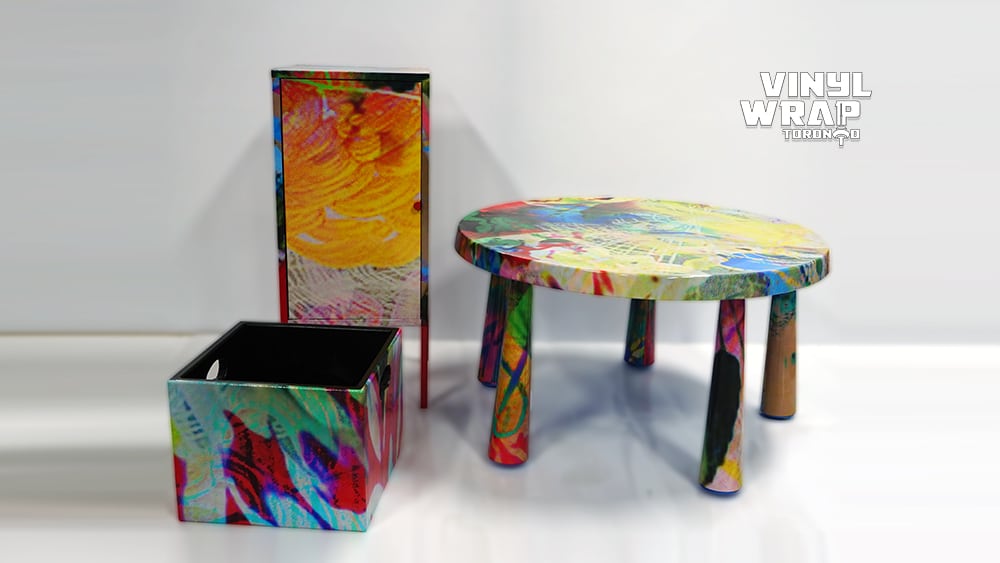 5. Helmets:
When you know you're going to be wearing a helmet, you might as well want to wear the one that looks the coolest among all others. We have wrapped helmets for our clients with their favourite graphics. A goalie's helmet and a recent client's helmet who goes go-karting.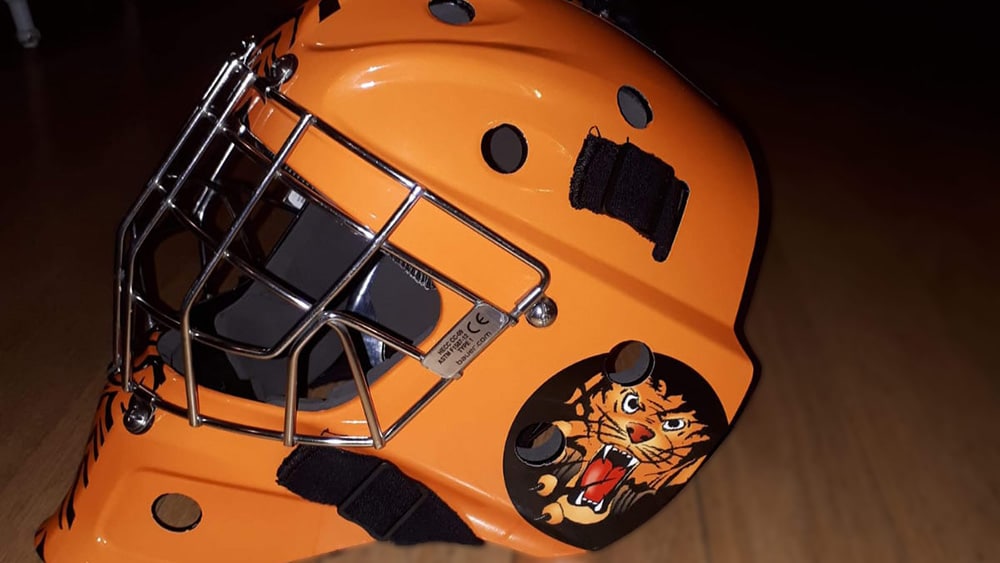 6. iPhones/Mobile Phones:
One of the things that everyone uses is an iPhone or an Android smartphone. While there are thousands of phone cases on the market, A) They're not personalized and unique. B) They're bulky and add unwanted weight to your phone. Consider getting a vinyl wrap on your phone for all-around protection with the ability to have any design that you like. You can even add QR codes to your social media channels, website, or basically any design that you can imagine.
7. And more:
Apart from the things mentioned above, we dipped our toe into wrapping walls, windows, cabinets, chimneys, and the list keeps growing. Our motto is, we can wrap anything as long as it has a solid surface.
If you have a unique object that you wish to give a personal touch on or wish to learn more about vinyl wrap cost, give us a call at 416-746-1381 or visit our garage located at 24 Ronson Dr, Unit 1, Etobicoke, ON, M9W1B4 to speak to one of our professionals. Check out more of our equipment wraps here.
You may also like to read: