GMC Full Car Wrap by Vinyl Wrap Toronto
Changing the colour of your entire vehicle is a big decision considering the amount of money you'd be putting into it. Not only that but also the fact that it wouldn't be possible to roll back to the original colour unless you're willing to pay for another paint job.
What's the alternative? Two words, Vinyl Wrap. Offering more customizability, colour options, durability, repairability are some of the reasons why vehicle wraps are better than paint jobs.
Our recent customer brought his GMC to our garage and placed an order for a full car wrap. Our team consulted with the client and understood the requirements. The client wanted to change the colour of his GMC from Glossy Black to Matte Dark Grey. Based on the requirements our experts offered advice and provided samples of materials and colours to choose from. The client chose the Matte Dark Grey from 3M's 1080 Series for his vehicle.
We started the process. Printing, lamination etc are some of the steps in the process of wrapping a vehicle. The finished product looks as follows: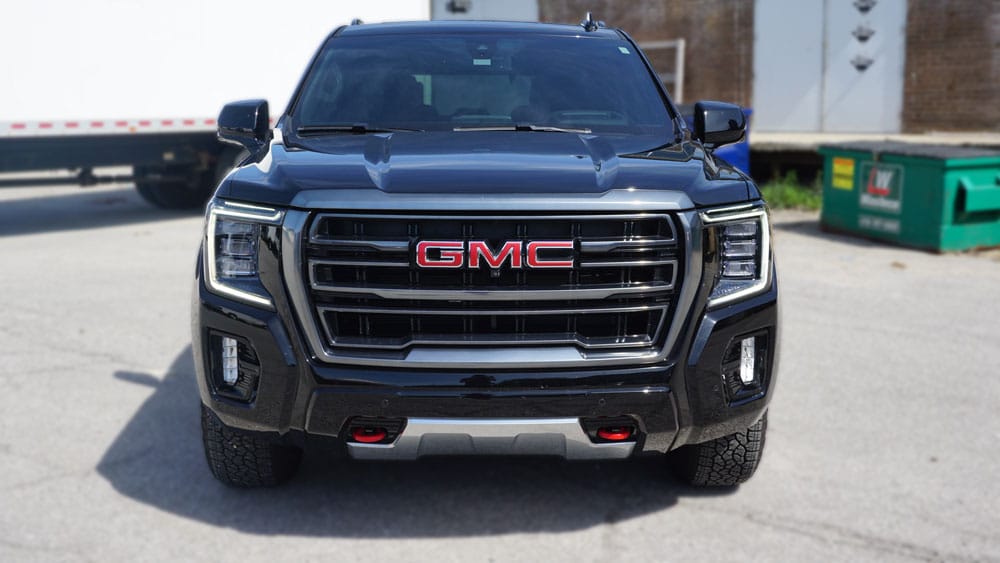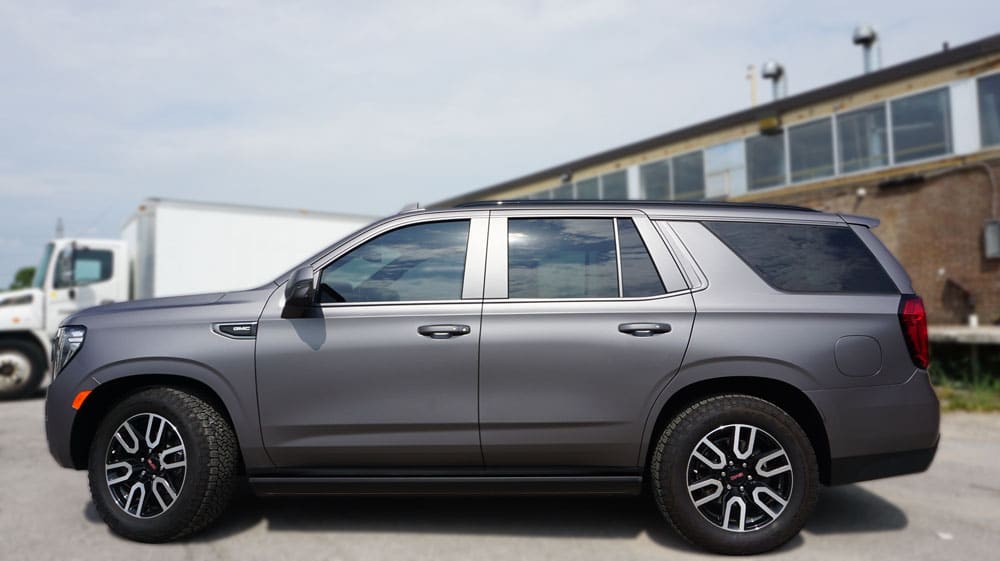 Benefits of Getting Vehicle Wrap
1) Customizability:
One of the biggest benefits of getting a vinyl wrap for your car is the freedom of customizability. You could get any design or pattern on your vehicle. From complex geometric patterns to simple lettering, you could let your inner artist out on your vehicle and stand out. This level of customizability is one of the reasons why people choose to go for vehicle wraps instead of getting a paint job, because half the time, those complex designs can not even be painted because they're too complex for the painting equipment.
2) Colour and Material Options:
Apart from the freedom to customize, vinyl wraps come in a lot more finishes and colours when compared to traditional paint jobs. Finishes such as glossy, matte, and satin along with a wider colour spectrum, allow you to be more unique and expressive with your vinyl wraps.
3) Durability:
Another benefit of vehicle wraps is that these vinyl sheets are supposed to stand against mother nature for several years before they will start to lose their charm. Premium quality vinyl films offered by Avery Dennison and 3M typically last for about 6-7 years and sometimes even more if you're following the care and maintenance instructions.
4) Repairability:
Now, this is something to consider when you're in a dilemma about whether to go for a paint job or vinyl wrap. Let's say a vehicle has an accident and as a result gets damaged. Now in the case of paint jobs, making sure the new paint layer matches with the rest of the paint on the vehicle's body, is almost impossible because the old paint has faded with time. However, in the case of vehicle wraps, all you need to do is take out that damaged patch and replace it with a new one and voila! It's as if it was never damaged. This ability of vinyl wraps to be repaired easily makes them an ideal choice.
5) Added Vehicle Protection:
Not only do you get all of the above, but you also get an additional layer of protection for your vehicle. Wrap films are thick enough to preserve your vehicle's original state for years. Protection from environmental factors such as sunlight, rain, dust and debris, etc. So when the time comes, you can unwrap your vehicle and find your brand new or untouched vehicle underneath.
6) Exclusivity:
Having a vehicle with a personalized design and a classy finish will certainly make your vehicle exclusive and stand out on the roads. This is ideal for when you want to show off your pride and joy or want to advertise your business.
Final Thoughts:
So, when you're looking to give your vehicle a new look, vehicle wraps are something you should definitely consider. Based on the benefits above, you get your money's worth and more.
If you have any questions or concerns regarding vinyl wraps, feel free to give us a call at 416-746-1381 or visit our garage located at 24 Ronson Dr, Etobicoke.