Full Trailer Wrap – Gateway Landscape – Get a custom vehicle wrap today!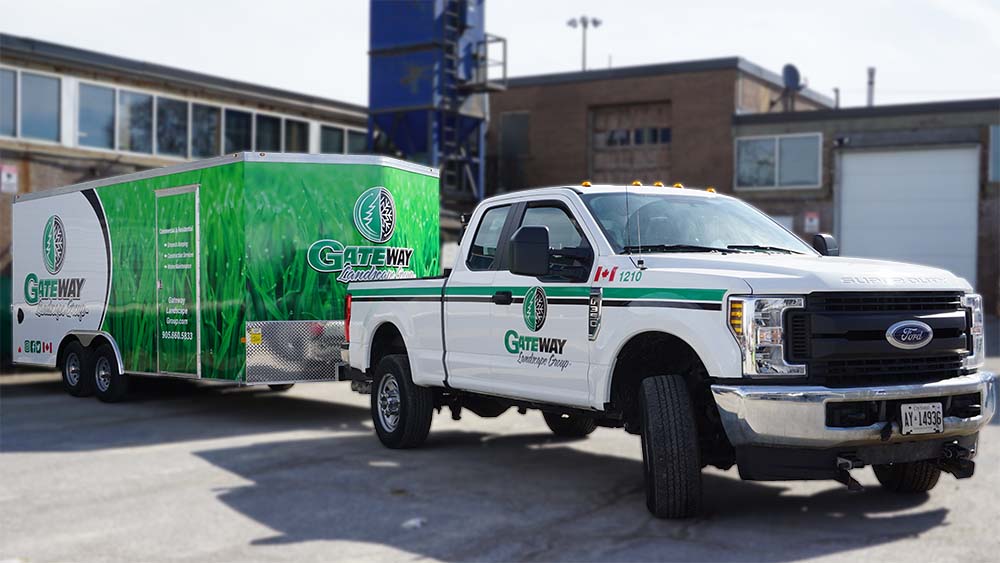 Full Trailer Wrap – Gateway Landscape
Gateway Landscape specializes in helping clients increase the beauty of property by creating exquisite outdoor spaces. Its mission is to elevate the landscape beauty, functionality, and value of the client's property.
Gateway landscape has been in business with Vinyl Wrap Toronto for years now. This time they wanted to advertise their trailer with a full vinyl wrap. Gateway wanted to advertise their services on the tailer and other important information like contact, website, and social media platforms that they are present on. Our experienced designers understood the job and gave them the exact results. Moreover, the client was so happy with the job that he referred us to his friend.
The trailer was wrapped using 3M wrap films.
If you own a business and want a vehicle wrap, car wrap, or even a boat wrap, Vinyl Wrap Toronto is your one-stop shop! Not only that, but we also specialize in wall graphics and equipment wraps. To know the car wrap cost, feel free to contact us or fill the form and our team will get back to you.
To check out other trailer wraps, check our Portfolio.
You can also visit us at 24 Ronson Dr, Unit 1, Etobicoke, ON, M9W1B4 or call us at 647-559-5939 to get an estimated trailer wrap cost.
Follow us on social media to get regular updates.