Common Myths about Vinyl Decals and How to Brand Your Business
Branding your vehicle is an easy and one of the most effective ways to advertise your business. From custom rear window graphics, decals, and even full or partial car wraps, many small business owners can put their business information on their vehicle and turn it into a mobile billboard.
Amongst the multitude of digital and print marketing techniques, vehicle advertising is still a win. Get your business noticed with car vinyl decals which is a time-tested way to get your business name and logo noticed by potential customers.
There are many myths about decals and how they will help in advertising.
We will debunk common myths regarding decals to help you clear the confusion.
#Myth1 – Decals are only for the wall: This is totally wrong; they are applied to a hard and flat surface. It sits well on drywall, glass, painted wood, steel, and plastic & can be applied to painted plaster, (might require heat to assist in application).
#Myth2 – It is difficult to remove vinyl decals: Decals are easily removable. Start by applying a little heat which will damage the adhesive and loosen the stickers from the surface of your car. Do not think that the removal process will leave some marks on the surface. If done professionally, it will remove vinyl decals smoothly. Just take it to an experienced person or simply come to us.
#Myth3 – It is unsafe for windows: A typical vinyl can make it difficult to see through, which is why perforated graphics are used on windows. The small holes in them permit good visibility. However, for safety reasons, you should not install them on the front windshield as well as the passenger windows. It is completely okay to install them on the rear windshield.
#Myth4 – You must wrap the entire vehicle: Absolutely Not! To advertise there are multiple options available like partial wraps, full wraps, decals, and lettering. Every vehicle does not need to get a full wrap. Decals are often just as effective as a full wrap, and they are economical. They use fewer materials, print faster, and take less time to install than a full wrap. Most importantly, it is always better to check with your insurance company and inform them prior to getting your vehicle decorated.
#Myth 5 – Vinyl Decals are not worth the investment: According to 'Market your Car' 98% of people think wraps create a positive image of the advertiser. Business vehicle decals are the most effective form of advertising compared to all other types of advertising—reaching thousands more people within a fraction of a second.
Recently, one of our clients Anga's Farm & Nursery which grows and sells a wide variety of plants came to us to get decals on their commercial vehicle. They wanted decals on their trailer. A huge logo with their contact information on both sides with an exquisite flower decal that makes it look aesthetically pleasing. Moreover, they were looking to give a shout-out to their Instagram handle with decals on the backside of the truck. Our design team understood their idea and we delivered the same. Here are some pictures for your reference.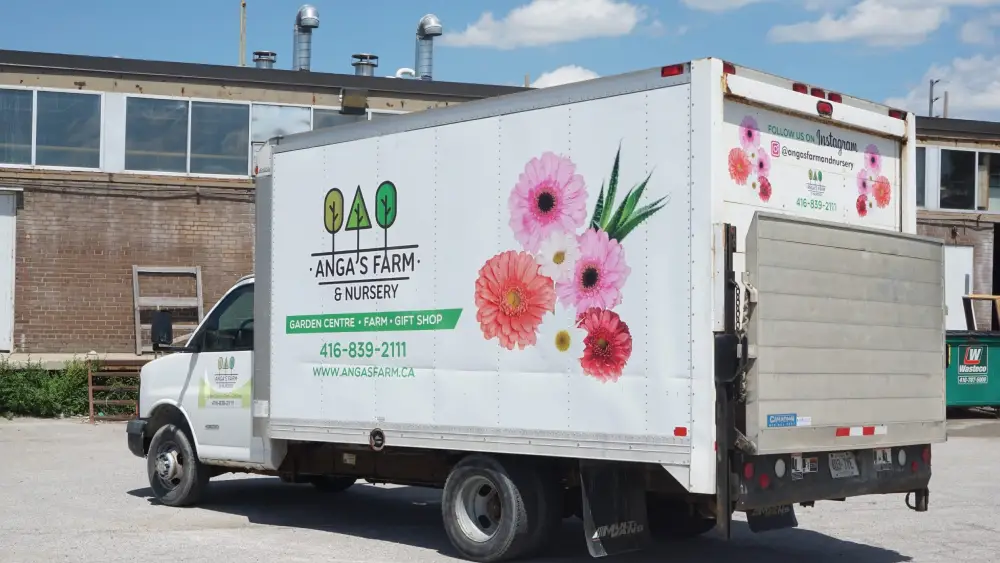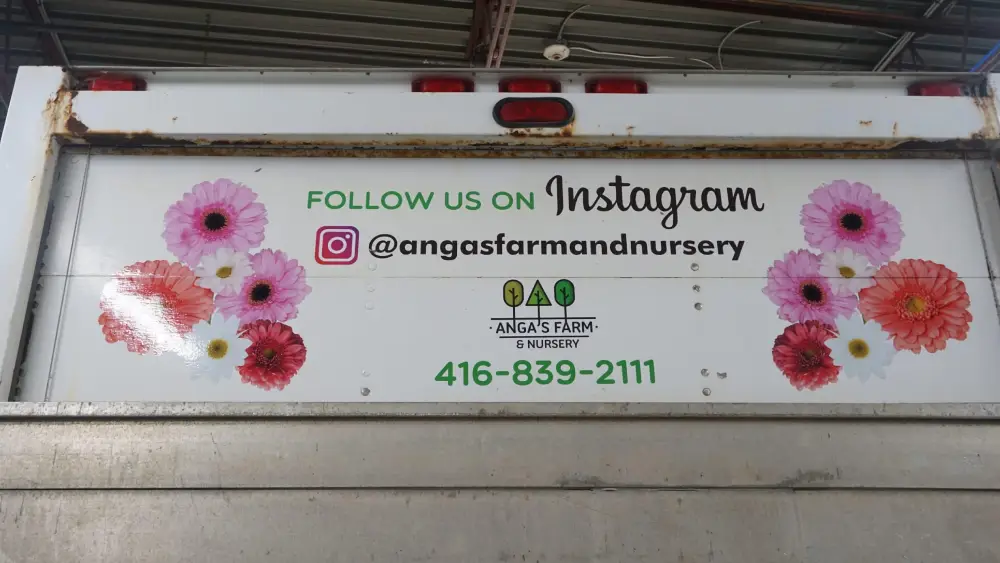 We hope you enjoyed this article about How to Boost Your Branding Game with Vinyl Decals and the Most Common Myths about them. If you would like more personal tips, insights about our vehicle wrap process and access to our awesome offers then follow us on social at Vinyl Wrap Toronto.
Vinyl Wrap Toronto at Branding Centres offers premium custom wrapping solutions in Toronto. We offer vehicle wrap services, including but not limited to car wrap, Boat Wrap Lettering & Vinyl Decals, and Racing Stripes. To book your appointment or learn more about vehicle wrap costs and materials, give us a call today at 416-746-1381 or visit our garage located at 24 Ronson Dr, Unit 1, Etobicoke, ON, M9W1B4.