Moonlight Tattoos – Partial Car Wrap by Vinyl Wrap Toronto
Give your business a more professional look and increase visibility by getting a vehicle wrap from Vinyl Wrap Toronto. Whether you want to advertise your car or protect your vehicle with an additional layer, VWT will provide you with premium quality products.
You must be thinking if Car wraps are effective or not. Read to know more.
The wrap turns your vehicle into a 24/7 advertising medium. One of the biggest advantages of car wrap advertising is that it promotes your brand message through the vehicle and gives it mobile exposure. If you own a small individual business, then car wrap is ideal for you. You can market your business in places where is it challenging to reach out to customers via newspaper advertising, tv ads, etc.
Here are a few benefits of a wrap:
Low cost – In comparison to other advertising techniques, vehicle wrap has a lower cost per thousand impressions. It is highly a cost-effective way of out-of-home advertising.
Increased Visibility – If we will compare it with billboard advertising, it is both temporary and lacks mobility, On the other hand, vehicle wraps can reach out to an expanded audience as they can travel across different locations.
Improved ROI – Wrap will leave an impression on an individual. The viewers will resonate and recall when they next see any form of advertising from the brand. It means car wrap creates a lasting impression and influences customers purchasing preferences.
Recently, Moonlight Tattoos, a Spanish tattoo artist with over 11 years of experience came to us to get her partial car wrap.
A partial wrap will add graphics to some parts of the car. You can select areas including the tailgate, bumper, hood, or any combination you want. At VWT, we will wrap your selected areas, working with the natural lines to give your vehicle a seamless finish.
The client wanted her car Hyundai Elantra to reflect her work and therefore, she focused on places that will be highly visible to the people. She also concentrated on intricate details that will make her car stand out even more.
To begin with, for the partial wrap, she chose Gloss Fierce Fuchsia. She wanted decals on the tailgate which say, 'Tattoo Girl' and her brand name. For the rear window, we did bold brand names with her contact details. Additionally, the stickers of social media channels she is present on. To add a personal touch, we applied a huge rose on both sides of the car with intricate details like tattoo guns.
As we mentioned before that she wanted her car wrap to reflect her business. Therefore, a graphic illustration of the tattoo artist on the car hood tells the viewers that it is a woman-owned business.
Our design team ensured that her idea is put into reality. We are putting some images here for your reference.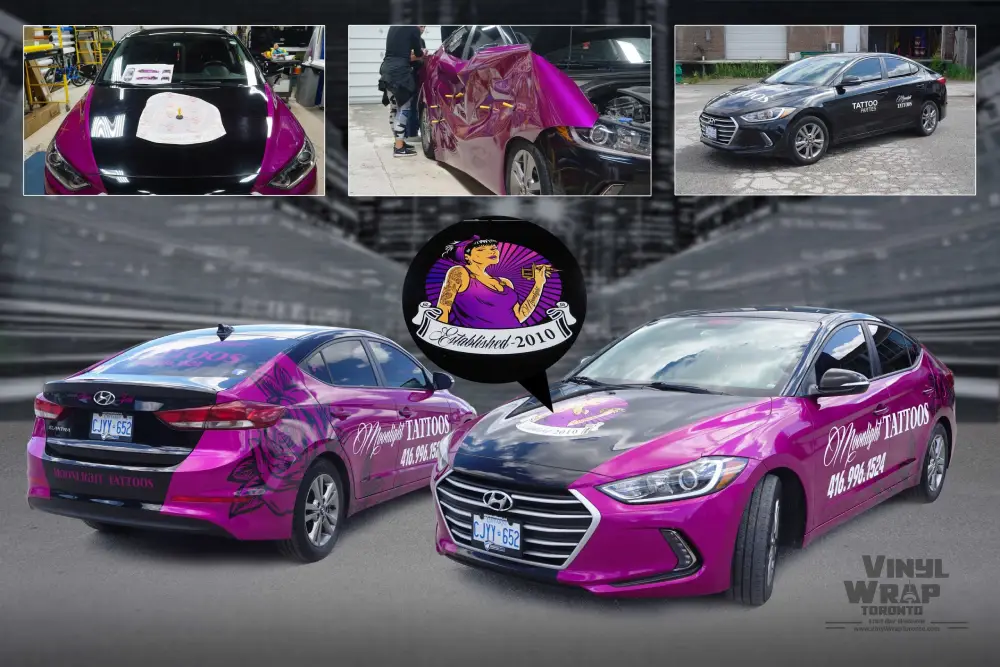 If you want your car wrapped, then Vinyl Wrap Toronto is just a call away. We also deal in motorcycle wrap, boat wrap, and a lot more. Check out our portfolio here.
What makes VWT unique is that we do everything in-house, including design, print, and installation which guarantees a superior end product. To speak to one of our experts regarding vinyl wrap materials or car wrap cost, feel free to reach out to us at 416-746-1381 or visit our garage located at 24 Ronson Dr, Unit 1, Etobicoke, ON, M9W1B4
Check out more partial car wraps here.
Read some of our blogs:
Tesla Wrap Toronto
Boat Wrap Toronto