Mercedes CLA250 Chrome Delete – Custom Wraps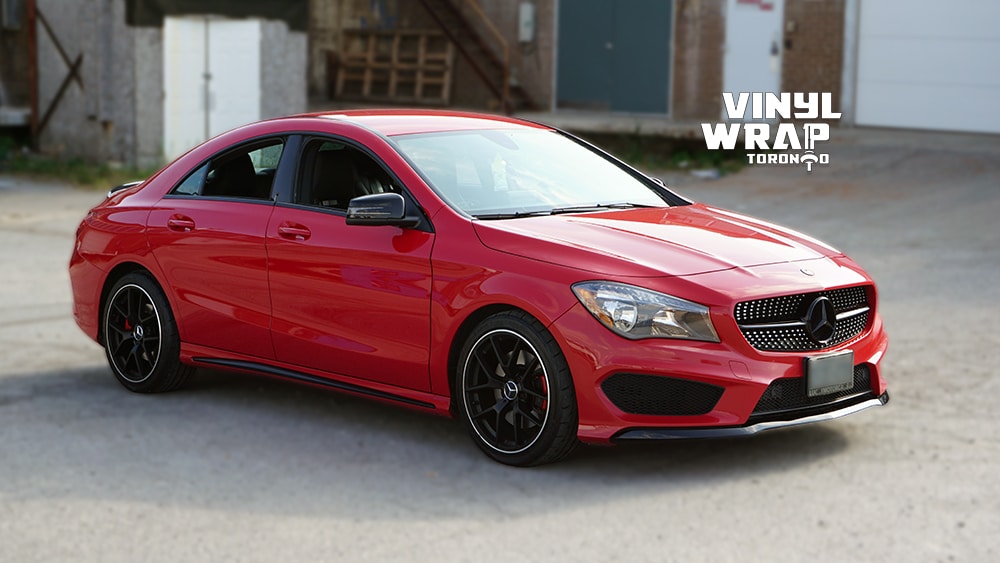 Mercedes CLA250 Chrome Delete By Vinyl Wrap Toronto
Car manufacturers believe most of the public likes the look of shiny chrome trim. For most people, something like this isn't an issue. However, what if you feel like the chrome trim is withholding your car's true beauty? 
Vinyl Wrap Toronto can take care of that for you. With a Chrome Delete procedure, we can cover the chrome trim in any colour you desire. You'd be surprised to see the difference it can make. For example, a black car with silver chrome trim isn't truly black because the silver will always overshadow the black. The solution is to get a chrome delete job and have the chrome trim covered in black colour and a finish that matches with the rest of your car or a colour that you think will enhance the beauty of your car.
Our recent customer proves, how you can use a chrome delete job to make your car look more stylish. The client dropped off his red Mercedes CLA250 at our garage. Red is an interesting colour and there aren't many colours that go along with red. Our customer wanted to get rid of the silver chrome trim around the windows of his Mercedes CLA250.
The client wanted to turn the silver trim into black. Chrome delete jobs can be tricky for someone who does not have years of experience. It requires attention to detail and full control over hands to ensure accuracy and precision. So we suggest getting it done by professionals. We have installers working with us at Vinyl Wrap Toronto who has been working in the industry for more than a decade.
Our installers finished the chrome delete job for the Mercedes CLA250 in a matter of a few hours and the outcome as always was fully satisfying, the client will testify to that statement. Now the black complemented the red on the Mercedes CLA250. We've attached some before and after pictures of the vehicle for you to see the difference it makes.
In most cases, the reason to get a Chrome delete job is to enhance the look of a vehicle. Your reason could be anything.
If you wish to get rid of the chrome trim, we're here to make it happen. Contact us at 416-746-1381 or visit our garage located at 24 Ronson Dr, Unit 1, Etobicoke, M9W1B4 to speak to one of our experts and get a quote.
Read: Why Vinyl Wraps are Better than other modes of Customization.
We do all kinds of wraps on all kinds of vehicles and objects. Our motto is, "We can wrap almost any vehicle or object as long as it has a solid surface".
For more pictures, check out our blogs here. Check out more car decals here.