Car Graphics on Creative Integrity's Ford F-150 – Best Custom Decals in Toronto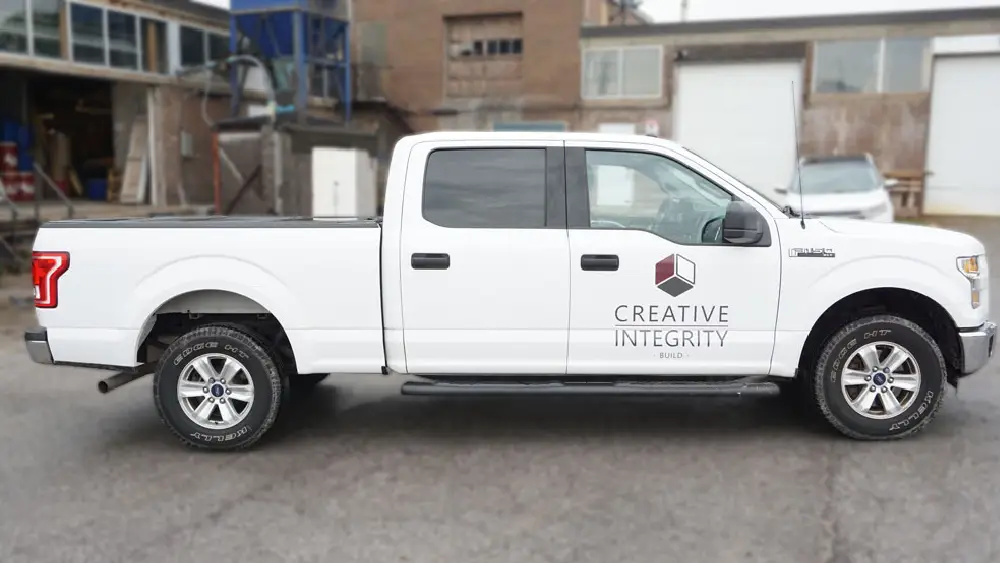 Car Graphics on Creative Integrity's Ford F-150
If you're in the business of building or renovating, chances are you know how hard it can be to get your company noticed. You hear about all the new construction going on in your city, but you aren't seeing people calling you up for quotes or telling their friends about how much they loved working with you.
That's where we come in! We are Vinyl Wrap Toronto, and we specialize in creating car graphics for companies like yours that want to increase their visibility and drive more business from happy customers.
We worked with Creative Integrity on a recent project, customizing their F-150 truck with vinyl car graphics that gave them a great deal of brand exposure as well as increased visibility on the road. From simple contact information to more complex car graphics and logos, we have everything you need to make sure people know who you are—and why they should choose you over anyone else in your field.
We'd like to invite any other renovating businesses out there who might be interested in learning more about our services to contact us today!
If you would like to personalize your car, truck, boat, or other personal items – as long as it fits into our garage and has a smooth surface, we would love to wrap it! For your inspiration or your next wrap with Vinyl Wrap Toronto, do not forget to check out our Portfolio.
Get a Free Quote today by filling out the form and our team will get back to you as soon as possible. You can reach us at 416-746-1381 or send us an email at info@vinylwraptoronto.com. You can also visit us at 24 Ronson Dr, Unit 1, Etobicoke, ON, M9W1B4.
Don't forget to follow us on Instagram, Facebook, Twitter, and Pinterest to hear about our special deals, creative wrap projects, and vehicle branding.