Full Vinyl Wrap for Mr. Norm's Nephew
If you are new to the world of full vinyl wraps and decals, you are in for a treat because they open advanced ways for advertising and marketing. Not only do they help elevate your brand identity but make your vehicle look cool and stand out on the streets. With businesses on the upswing, full vinyl wraps are in demand. The trend has expanded not only to businesses but also to the public. In the age of social media, traditional marketing methods is still your go-to technique.
We often get this question what are the types of commercial wraps? Read through to know more: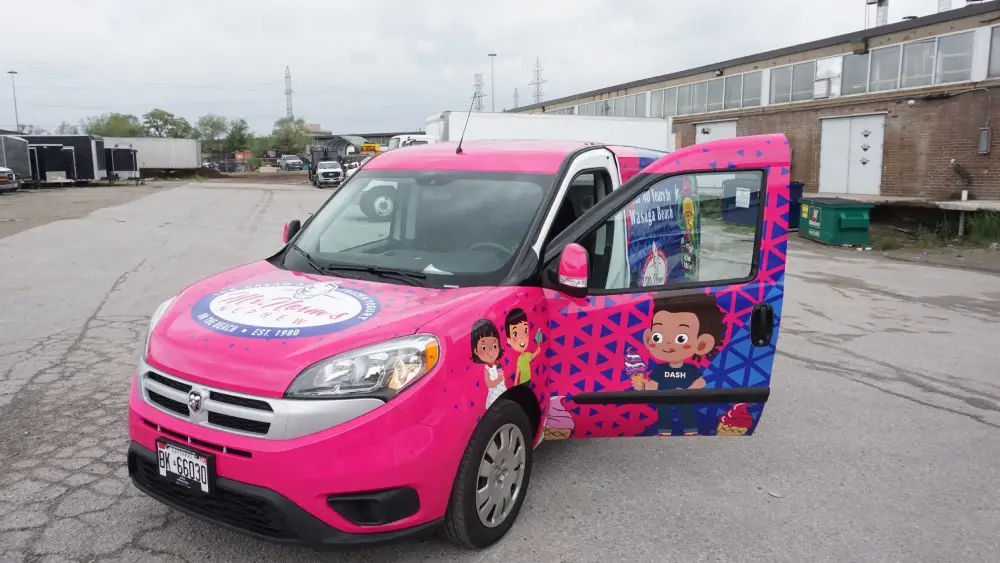 Vinyl can be applied to an entire vehicle, including bumpers, tailgates, and windows. Here is what you can choose from.
Full vehicle wrap: The sides, rear, and hood are covered with vinyl. It also includes windows, mirrors, bumpers, other hardware, and at times even interior components.
Partial wrap: It commonly includes wrapping the sides, hood, and tailgate. The cost for partial wraps is less than the full vinyl wrap.
Decals: Decals include spot graphics or lettering emblems. Companies usually go for their logo, web address, phone number, tagline, and other graphics.
Did you know 80% of consumers recall relevant details about a vehicle wrap after seeing it only once, and 91% of consumers can recall significant detail when the vehicle wrap is seen a few times per week over the course of a daily commute?
A well-designed full vinyl wrap is key to getting your business noticed in the market. In an industry crowded with disastrous wraps, our in-house design team will guide you through the process to not only make a great-looking wrap but one that will generate revenue.
Recently, one of our clients named Mr. Norm's Nephew; an ice-cream parlour came to us for the full vinyl wrap. As interesting as the name suggests, the job was even more exciting and colourful.
The ice cream shop was founded in 1980 in Wasaga Beach, even before some of us were even born, and is serving people for 40 years now. The most fascinating thing about the job was how contemporary and quirky it was. When Paul and Karen, the current owners came to us for the job, they explained the vision and told us that they want their grandson's animated picture on the wrap. Our design team was all in for the job and started working on the amazing transformation.
They wanted to rule wherever they go, and that people should remember their business, especially kids. The clients chose pink and blue so that children get attracted to the van and here is what we delivered. Here are some pictures for your reference and a treat for your eyes.
Vinyl Wrap Toronto specializes in transforming your vehicles and making them one of a kind. You can check our portfolio.
To get your vehicle wrapped or know the van wrap cost, feel free to reach out to us at 416-746-1381 or visit our garage located at 24 Ronson Dr, Unit 1, Etobicoke, ON, M9W1B4. Check out more van wraps here.
You may also like to read:
CHEVY BLAZER 2019 COLOUR CHANGE
16 FOOT 2007 CRESTLINER BOAT WRAP