Full Boat Wrap – Glacier Bay
Give your boat a makeover with a full vinyl wrap. There is no better way to personalize and protect your boat than to get it wrapped. We know that vinyl wraps and boats may not go together in your mind, but they should because they are much better than custom paint jobs.
You can choose from a versatile range of colours, designs, and textures to transform the entire look of your boat. Boat rentals are a famous part of Toronto summers. So, if you are a boat owner, now is your time to channel wraps in your advertising strategy. Steal the spot and stand out amongst your competitors.
Here are some advantages of boat vinyl wraps:
Cost-Effective – Compared to paint jobs, boat wrap is more economical. It costs you one-third of the price of a boat painting. Additionally, it takes less time and if you are looking for quality then vinyl boat wraps are ideal for you. Avoid the high upfront costs of painting and rely on the long-term advantages of a cost-effective boat wrap. Most importantly, you can float your boat two days after it's wrapped.
Personalized Customization – Boat wraps offer the ultimate personalization as it allows you to put any design on your boat. At Vinyl Wrap Toronto, we turn your ideas into reality, keep reading to know more. The visual appearance of your boat says a great deal about who you are and what your business is about. No matter what you use your vessel for, you can customize it to match your personality, business, and passion. On the other hand, a small custom paint job can cost you a fortune.
Increases Resale Value – If you are looking to resell your boat or yacht then vinyl wrap can maintain its life. It keeps the boat in excellent condition by resisting any external damage. During the resale process, you can choose to take off the wrap and restore the original colour.
Fast Installation – Unlike paint, you can choose to take off the vinyl at any point or replace it with other vinyl. You can modify it as and when you want to. Vinyl boat wraps only take a few days or longer depending upon the size of your boat to install.
Environmentally Friendly – The process of applying vinyl to your boat does not involve harsh chemicals or solvents like paint that emit toxic fumes into the atmosphere and water.
These were some of the boat wrap benefits to get you started.
Recently, our client Mr. West came to us with his gigantic Glacier Bay boat. Our design team was super excited to wrap the boat. It was not the first time that we were wrapping a boat, our team of experts has been doing it for years now. Our client's idea was to have a fish scale-inspired full wrap on the boat. As we mentioned above, we turn your ideas into reality and that is what we did here.
As interesting as it sounds, our team was on board to take up this challenge. Our designers created a mockup and got it approved.
To create an exclusive impact, we wrapped the entire boat initially and different types of overlays were put over the vinyl. Every colour was chosen by Mr.West himself. Finally, the wrap installation took 3-4 days, and this is what it looked like.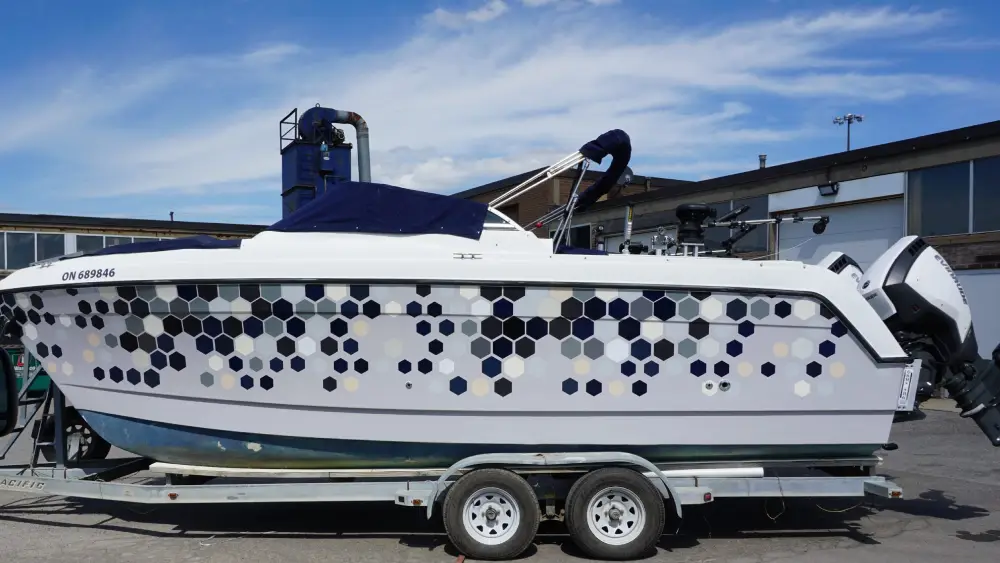 Before concluding we would like to give a disclaimer that leaves the installation job to professionals., otherwise you might end up hampering it.
Get, Set, Wrap, & Sail!
To get a boat wrap or ask a question regarding boat wrap cost, feel free to reach out to us at 416-746-1381 or visit our garage located at 24 Ronson Dr, Unit 1, Etobicoke, ON, M9W1B4. Check out more boat wraps here.
You may also like to read:
16 FOOT 2007 CRESTLINER BOAT WRAP