Colour Change Wrap for Dodge Challenger
Why change the car when you can change the colour? Do you have your vehicle for a while now and getting bored of looking at the same old colour? A colour change wrap is an ideal way to resolve this. Colour change will not only preserve the original surface but also give your vehicle a brand-new look.
Moreover, you can transform your entire car and make it look however you desire. At Vinyl Wrap Toronto, we have a huge selection of colour options for you to choose from.
A lot of you must be wondering why you should go for a colour change instead of paint on the car.
5 Reasons to Get Colour Change Wrap
Low Maintenance – You can hand wash your car with some water and no harsh chemicals, and you are good to go.
Durable – Paint will peel off in some years if not maintained, whereas colour change wrap adds a layer of protection to your vehicle from any rust or chip.
Versatility – In colour change wraps no colour is off-limits. Vinyl wraps have versatile options to apply to the car and give it a customized look.
Safe Removal: No hassle in removing the vinyl wrap. It can safely be removed between 6-8 years and will not affect the original paint of the vehicle.
High resale value – As mentioned in the previous point, that colour change wrap will keep the original paint intact which means the resale value will not be hampered.
Recently, one of our clients came to us with his Dodge Challenger. He wanted to get his car modified completely. This is how it looked like when it came into the garage.

We can draw inspiration from any and everywhere and that is what happened with our client. He saw a car on the road and shared his idea with us. Our team turned his vision into reality and the car looked like this.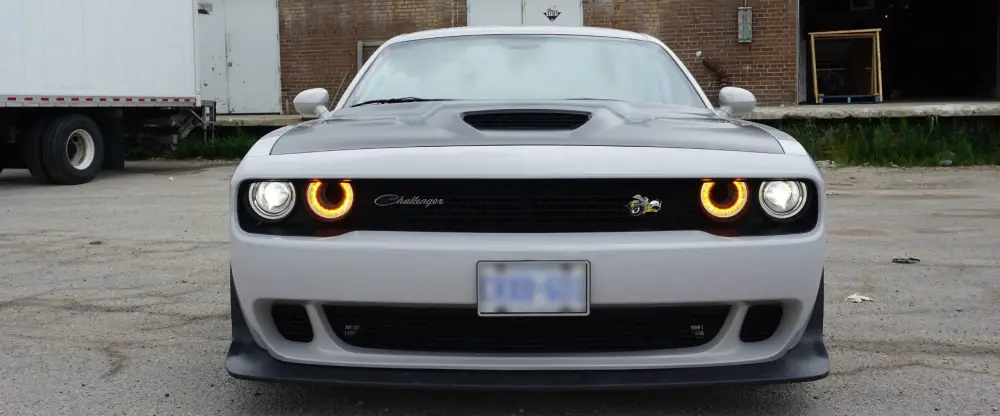 At Vinyl Wrap Toronto, our material selection is based on premium quality, reliability, warranty, and durability to withstand all types of weather on all our vehicle wraps and colour change wraps.
With over 10 years of experience, Vinyl Wrap Toronto has not only seen but has also installed some of the most impressive colour-changing vehicle wraps. You can check our portfolio. We always use premium materials like 3M and Avery Dennison. Since we let our work speak for itself, we take pride in achieving excellence and precision on every wrap. Panels, door jambs, and other intricate parts are wrapped seamlessly. Colour change wraps are often both a personal statement and protection of the original paint.
To get a colour change wrap or learn more about car wrap cost, feel free to reach out to us at 416-746-1381 or visit our garage located at 24 Ronson Dr, Unit 1, Etobicoke, ON, M9W1B4. To check out more of our work, click here.
You may also like to read: