Supra Full Boat Wrap – Custom Vehicle Graphics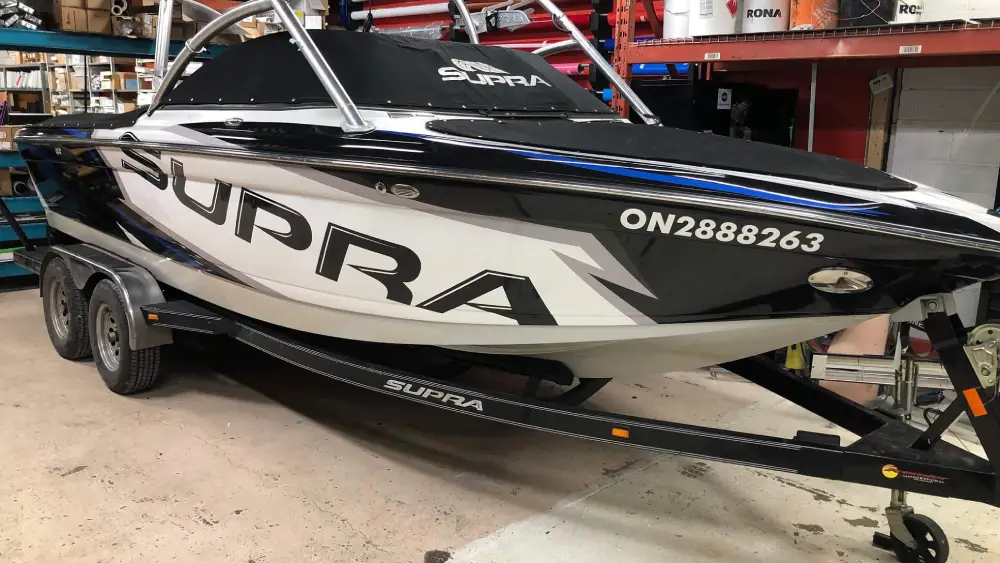 First Full Boat Wrap of the Season
Vinyl Wrap Toronto's first boat wrap of the season, a Supra full boat wrap. Just as this boat arrived, an existing customer arrived asking for his boat to be wrapped. This is the time now to consider wrapping your recreational vehicles or watercraft.
Spring is almost upon us and it's time to think about summer fun. Put the skis and snowmobiles away and start preparing the water skis and Skidoos.
This boat is all about life on the water and the client wants to update the look before the season. The boat has sat in storage all winter long and looks a few years old on the outside. Inside and the main deck area still look in great condition, hence the update on only the hull.
The before photos show a boat that is well used and needs a little care. This is what Vinyl Wrap Toronto does best, we transform your vehicle to look like new.
The full-boat wrap tested our installers and graphics team, but the extra effort and care showed off on the final product. Vinyl Wrap Toronto can wrap almost anything if it can fit into our garage during the winter season. The boat on its trailer was an easy fit in the garage even with another vehicle at the same time.
The Supra Boat completed full wrap came out better than the client's expectations. Our client could not wait for the weather to improve so he could get on the water.
Vinyl Wrap Toronto has wrapped many different crafts over the years, from airplanes to boats and golf carts. Bring us your toy, bike, or anything else that gives you a smile, and we can wrap it for you. Click Here to view our other boat wraps.
Like us on Facebook, Follow us on Instagram, Heart us on Twitter and add a Comment on Pinterest.