It's that time of the year when you can see rainbows everywhere you look. As a community, we come together to show support for LGBTQ+ people during this time. There is a feeling of love and acceptance in the air. Businesses and individuals show solidarity with the community by including the pride flag in their branding.
In the end, however, just slapping a rainbow flag on a company logo could come off as a selfish attempt to get some attention. So, what could you do to stand out from the rest of the crowd? How could you represent the community and your support for it, in a way, that's unique and also goes with your brand persona? Well, we have an idea for all of you who wish to celebrate pride in a fun, unique and respectful way. It is…wait for it,
Custom Designed Pride-themed Car Wraps!
There's nothing better than custom-designed car wraps to demonstrate your commitment to branding. Getting a car wrap is relevantly cheaper and more effective than a custom paint job. The benefits of vinyl wraps over custom paint jobs are explained here.
Where to seek inspiration?
Getting inspiration for a pride-themed car wrap isn't much different than throwing a stone and its probability to hit something. Since the LGBTQ+ community, like their flag, is colourful and full of life, it wouldn't take much research to come up with something that will make your brand pop. Consider researching and finding something like:
You can create a car wrap that features a meme that's becoming viral in the community.
There's nothing quite like Rupaul's Drag Race – an ever-popular reality show where drag queens compete in order to become America's Next Drag Superstar. The show is loaded with viral moments and gags that people from the LGBTQ+ community use in their daily lives.
To show support, you might consider a quote that promotes equality and acceptance.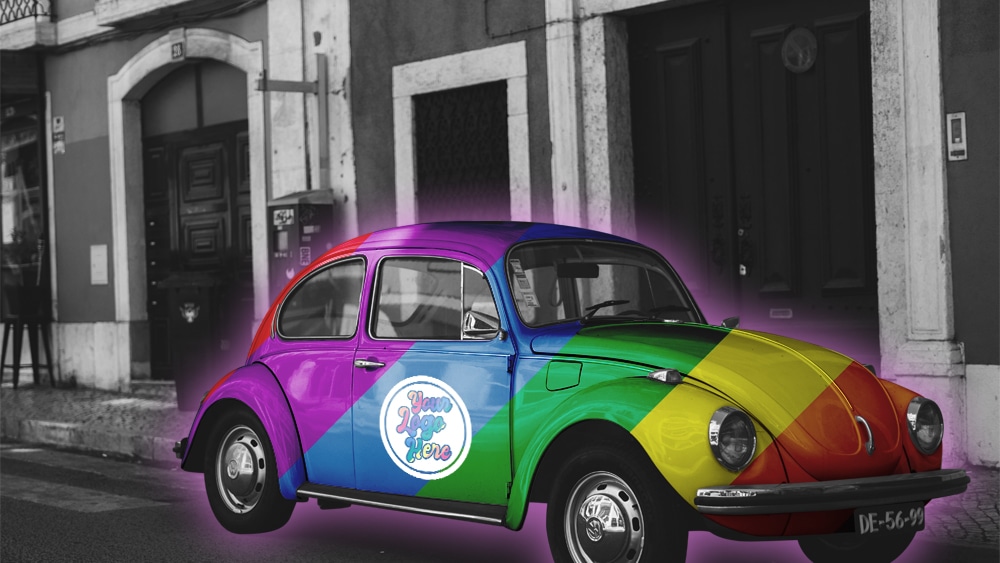 What is the process for getting a vinyl car wrap?
The process is pretty straightforward. All you have to do is to imagine your vision and choose a vehicle wrap shop that you can trust. In order to pick the right vehicle wrap shop, here are some questions you should ask them before booking a vehicle wrap. The next step is to communicate with a vehicle wrap designer who will be responsible for designing your car wrap. For that, you want to make sure that the designer you're picking is experienced enough to bring your vision to life. Look at their previous work/portfolio before making a decision. If their work speaks to you, you've found the right designer.
Now that you have your pride-themed car wrap designed and ready to go on your car, the next step is Installation. Depending on the complexity of your design, you'll have your car wrapped in a matter of a day or two. For a more detailed explanation about the process, check out our blog here.
To get started with the process, all you have to do is give us a call at 416-746-1381 or visit our garage located at 24 Ronson Dr, Unit 1, Etobicoke, ON, M9W1B4 to speak to one of our experts regarding car wrap cost and materials.
Remember, pride is a year-round event just like a puppy is not just for Christmas. So, let the wrap stay on longer and show off that pride is not just about one month of the year, it's all the time.
And when it's time to take off the wrap, we'll take care of that for you as well.