Goodmen Corporation Ford F-series Fleet Truck Decals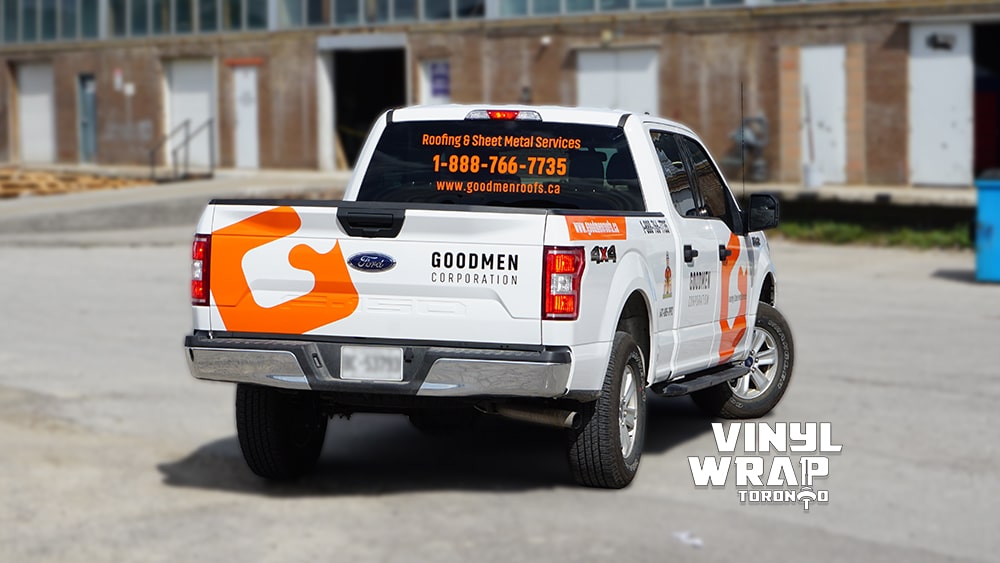 Goodmen Corporation Fleet Truck Decals:
In the 21st century, things have changed. What worked a few years ago, doesn't work today as well. When you're in business and want to keep your brand growing. It is important to keep yourself up to date with the latest trends in the market.
Because when it comes to marketing, the basic rule is to create something that catches the potential client's eye without annoying them or disrupting their thought process. So when you've made up your mind about marketing your business. There are countless directions you can steer into.
Most forms of marketing can be costly, but done right can grow your business.  Almost any approach you pick to advertise will have one flaw and it's almost impossible to not let it happen. That is annoying people with your ad. Yes, we said it. When was the last time you saw an ad and were actually interested in what it's about? Exactly. Especially when your plan is to advertise over the internet what ends up happening is you don't get your money's worth and little to no rise in the number of your customers. 
However, there is a way you can advertise your business without making people cringe. It is by getting your advertisements on your personal or company vehicles. With a few decals, you can turn your fleet vehicles into moving billboards, spreading the word wherever they go. 
A local company named "Goodmen Corporation" contacted us to get some truck decals on their fleet to promote their business. The company uses a variety of vehicles such as the Ford F150, Ford F250, Ford E350XL, etc. It was a couple of decals on the sides and roof of each truck that the company uses to carry out its services.
Originally what they wanted was to get decals only on the sides and back but not on the roof. Since our installers have been in the game for several years, we offer expert advice to our clients which is in their best interest. So we wanted the customer to see why they should consider getting decals on the roofs of the vehicles as well.
So, why should they have gotten decals on the roof? Simple, there are condos and buildings with multiple stories and people live and work on those upper floors. So they can't really see the decals on the sides as well as they would see an ad on the top of your vehicle.
So while you're getting decals all around your vehicle, you might consider some on the roof of your truck or fleet vehicle. So it would be like advertising from every angle. On top of that advice, we wanted them to actually see the roof with decals on it before they made a decision.
So we offered to install decals on one of the truck's roofs for the client to see its value. After that, it was the client's decision whether they wanted to go with decals on the roof or not. But since they saw potential in our advice, the client agreed to get truck decals on the roofs of the whole fleet.
The material we used to do the truck decals is Avery Dennison's premium quality vinyl. The Decals were all custom-designed. The company uses different trucks and vans varying in size and body type. So, for each different vehicle, we had to resize the decals with respect to the size of the vehicle. But that wasn't much of a problem for us because that's what we do and we're quite versatile. 
So, when our professional designers accurately resized and rendered those decals on digital mock-ups. The next step was to print and cut the decals. We use industry-standard cutting equipment to ensure precision and this case was no exception. After we cut and pre-masked the truck decals, it was our installers' turn to take over the next part of the process, installation. This is the main step where the vinyl decals were actually installed onto the fleet's surface.
We have experienced installers working with us at Vinyl Wrap Toronto. They wrap the car with the utmost respect and care for the client's vehicle as if it's their own. The outcome was as fruitful as our installers had already predicted and it was verified by the client's satisfaction when they saw their wrapped fleet.
While we're on the subject of decals, there are quite a lot of perks that make decals better than any other means of advertising:
Cost-effective:

Advertising isn't cheap. You have to spend a sack of money before you can actually profit from it. However, decals when compared to any other mode of advertising, are incredibly cheap, especially if you consider their low maintenance.

Longer Lifetime:

Unlike other ways of marketing, decals don't require you to pay a single buck for years. And after that, all you have to do is pay for new decals and you're good to go for years again.

Freedom to Imagine:

Decals are custom-designed vinyl stickers which means you can get almost any design turned into decals as long as it can be designed. With our team of capable designers, that won't be a problem. You get to pick from a large spectrum of colours and finishes.

Non-aggressive Advertising:

Unlike online ads, truck decals aren't all up in people's faces. This is why they're considered a non-aggressive way of marketing because only the people who want to look at them, will look.
The above-written factors are what influenced our client to get truck decals for his fleet of Ford F150, Ford F250, Ford E350XL, etc.
If you've got a personal vehicle or fleet that you want to use to advertise your business, Vinyl Wrap Toronto is here to make it happen. If you have any questions or want a quote regarding truck wrap cost, feel free to call us at 416-746-1381 or visit our garage located at 24 Ronson Dr, Unit 1, Etobicoke, ON, M9W1B4. We'd love to have you over.
To read more stories, read our blogs here. Check out more truck decals here. 
You may also like to read: